Book Cheap Flights- Save Huge
About Goa
Goa, a small coastal state in western India, is known for its sun, sand, sea, and seafood. Being one of India's favorite beach destinations, Goa is always packed with both domestic and international tourists. However, apart from the crazy beach parties, water sports, and vibrant nightlife, Goa has a different side too. This former Portuguese colony has a rich history to share. Visit its forts, churches, temples, and colonial-style architecture and neighborhood to learn about the city's rich heritage, culture, and tradition. Each year thousands of tourists book a Delhi to Goa flight to explore the state's best attractions.
Best Time to Book Delhi to Goa Flights
Goa's climate is tropical monsoon. The weather is pleasant all the time, and the seasons consist of a dry monsoon season and a wet season. The best time to visit Goa is between December and March, when the weather is comfortable, and Goa's cities host many music festivals, events, and parties, including Christmas, and New Year's.
Details About Delhi to Goa Flights
The aerial distance between Delhi to Goa is 1,515 km. Several airlines like Vistara, Akasa Air, GoFirst, Spicejet, Indigo offer flights on this route. There are 39 flights available on this route on a daily basis. It takes 02 hours 30 minutes to reach your destination.
To avail Delhi to Goa flight, book your seat with GoFirst at the cost of INR 5,805 for a one-way trip, and INR 14,240 for a round trip.
Furthermore, Goa now has two major airports- Dabolim Airport (GOI) and Manohar Airport (GOX). There are several airlines available that offer their flights from Delhi to these two airports in Goa.
Here are some insights concluding flight fares from Delhi to Goa:
Best Places to Eat in Goa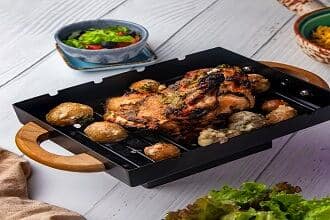 Juju- Reimagined Indian
Come to this fine-dining establishment specializing in contemporary Indian cuisine. From soothing decor to delicious dishes, Juju is a perfect spot to have a great dining experience in Goa. Their kasundi chili prawn and chili salan, and world-class wine collection, make it popular among the patrons.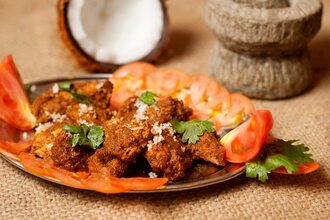 Kokni Kanteen
No trip to Goa is complete without relishing its authentic Konkani cuisine and Goan fish thali. Come to Kokni Kanteent that has a vintage look and serves the most delicious regional thali of this coastal state. You may find the menu overwhelming, as they have a myriad of choices. But its traditional thali stands out.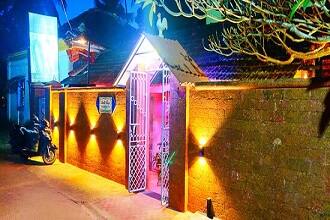 Bhatti Village
This restaurant cum bar in Nerul is another gem of Goa, where you can enjoy seafood delicacies. Each of its dishes is a gastronomic treat. The restaurant is set inside a Goan home, which gives visitors a homely vibe. The menu is heavy on meat and hence if you love non-veg this place is a must-visit.
Best Hotels in Goa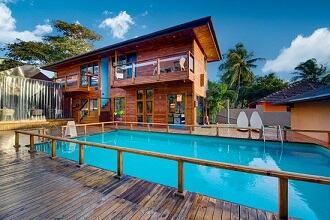 The Baga Beach Resort
Location : 7/225/A, Saunta Vaddo, Baga, Goa 403516
Price : INR 31,000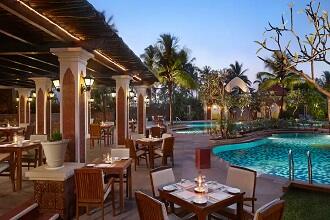 Caravela Beach Resort
Location : Varca, beach, Margao, Goa 403721
Price : INR 16,700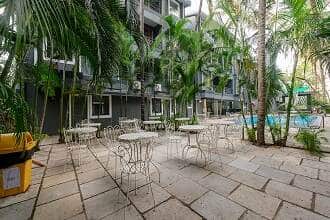 Magnum Resorts
Location : opp. Primary Health Centre, Candolim, Goa 403515
Price : INR 3,440
Places to Visit in Goa
Palacio Do Deao
The Palacio Do Deao, built in 1780, in Quepem, represents Indian and Portuguese architectural aspects. Visitors can explore the night maze, game room, and library, all of which are filled with rare tomes.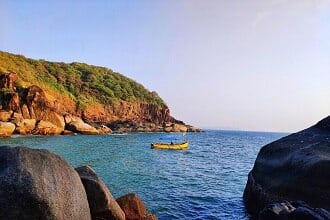 Butterfly Beach
If you are looking for a secluded beach, which is somewhat far from the tourist's radar, then Butterfly Beach is a perfect spot. The only way to reach the beach is by taking a boat ride from Palolem. The beach is home to thousands of colorful butterflies.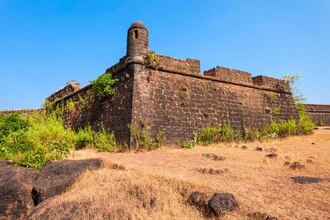 Chapora Fort
Built in 1777 by Adil Shah and originally known as Shahpura, Chapora Fort in Goa is one of the state's historic places. The fort is located on the banks of Chapora River and commands views of all directions.
FAQs
Which are the most preferred airlines from Delhi to Goa?

IndiGo, Vistara, Spicejet, Air India, GoFirst, Akasa Air are the most preferred airlines from Delhi to Goa.

IndiGo, Vistara, Spicejet, Air India, GoFirst, Akasa Air are the most preferred airlines from Delhi to Goa.

Usually, to get the cheapest flight tickets from Delhi to Goa, you need to book the flight two weeks before.

How can I check my Delhi to Goa flight booking status?

To check your Delhi to Goa flight booking status, visit the airline's website and enter your PNR. Follow the further instructions to get the most updated status of your flight.

How far is Delhi to Goa by plane?

The aerial distance between Delhi and Goa is 1,515 km. It takes just 02 hours 30 minutes by plane to reach Goa from Delhi.

What is the price of Goa air ticket?

The average cost of a Delhi to Goa one-way ticket is INR 5,805 and a round-way ticket may cost you around INR 14,240.

Which time is best for Goa trip?

Winter is the best time for a Goa trip.

How much does Goa trip cost for 3 days?

A Goa trip for 3 days may cost you around INR 15,000 TO inr 47,000.

How many airports are there in Goa?

There are two major airports in Goa- Dabolim Airport (GOI) and Manohar Airport (GOX).

What is Goa famous for?

Goa is one such place that needs no introduction. This western Indian state is equally popular among Indians and foreigners for its wild parties, beaches, and seafood.

 Which language is spoken in Goa?

Konkani is the official language of Goa. However, Hindi and English are two other common languages.
Flights To Delhi
Flights From Delhi
Airports Near Delhi
Indira Gandhi International Airport
Flights To Goa
Flights From Goa
Airport Near Goa
Dabolim Airport
Hubli Airport