Book Cheap Flights- Save Huge
About Vadodara Flight
Vadodara or Baroda is India's 10th largest city. This city of Gujarat is highly famed for its kingdom, opulent architecture, and rich traditions. There is no dearth of attractions in Vadodara. Its monuments boast architectural splendor and the lush landscape adds charm to its rustic side. For an ideal weekend getaway, book a Hyderabad to Vadodara flight and explore the city's cultural extravaganza.
Best Time to Book Hyderabad to Vadodara Flight
Vadodara remains hot year round, with summers being the hottest and humid. It has a tropical climate. So, many visitors avoid the summer season from March to August due to extreme heat. Plan your trip during winters (November to January).
Details About Hyderabad to Vadodara Flight
Traveling from Hyderabad to Vadodara? The fastest mode of transport on this route is taking a flight, which takes just 01 hour and 30 minutes. While there are 62 daily flights, mostly offered by IndiGo and Air India, you will find only one nonstop flight by IndiGo.
Best Restaurants in Vadodara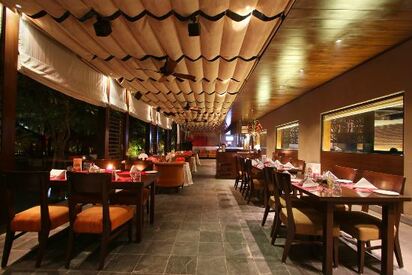 Bay Leaf Multi-Cuisine Restaurant
For an exquisite dining experience, visit Bay Leaf. The menu offers an extensive range of cuisine, from Indian to Mughlai, Italian, Chinese, and Thai.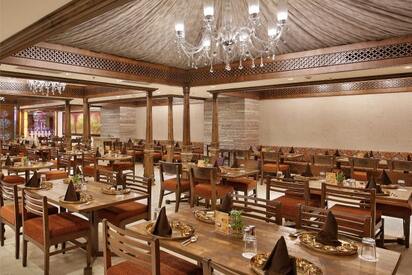 Mandap
Mandap is a traditional Gujarati restaurant in Vadodara, known for its scrumptious and authentic Gujarati thali. Additionally, as the name suggests, patrons dine-in here under a made-up canopy that adds a festive touch.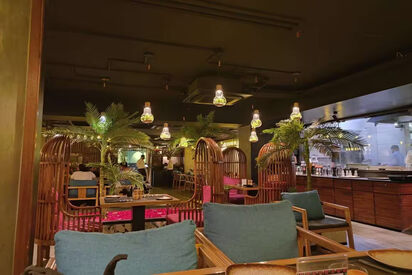 The Secret Kitchen
This upscale veg restaurant is a perfect place in the city to satisfy your appetite. It has pod-style seating and the menu offers platters of different regions, including Rome platter, NYC platter, and Arabic platter.
Best Hotels in Vadodara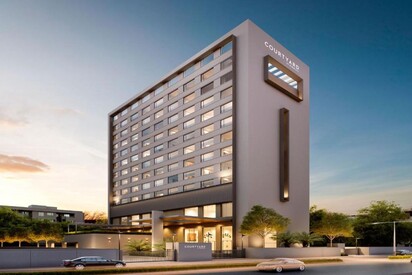 Courtyard by Marriott
Location: Block B Sarabhai Campus, Near Genda Circle, Alembic Rd, Vadodara, Gujarat 390023
Price : INR 8,000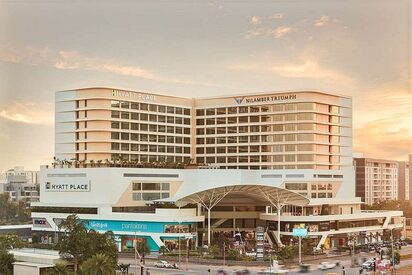 Hyatt Place
`Location: Hotel Wing – Nilamber Triumph Nilamber Circle, Gotri – Vasna Rd, Vasna, Vadodara, Gujarat 390007
Price : INR 5,450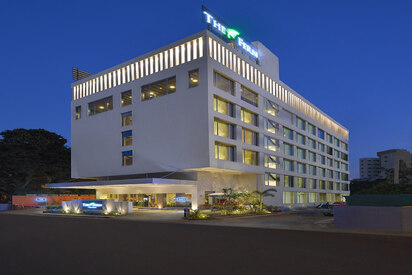 The Fern & Ecotel Hotel
Location: Off Dinesh Mill Road, Near Urmi Char Rasta, Purushottam Nagar, Akota, Vadodara, Gujarat 390020
Price : INR 3,529
Places to Visit in Vadodara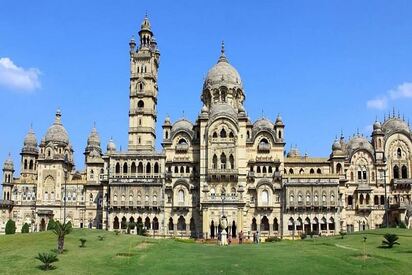 Laxmi Vilas Palace
It was a private residence of Maharaja Sayajirao Gaekwad III. It is one of the largest residential palaces, equivalent to four times larger than Buckingham Palace. This palace was designed in the Indo-Saracenic style and is still the home of the royal family. Visitors to the palace explore the Maharaja Fateh Singh Museum, which houses sculptures, arts, and paintings. Book a Hyderabad to Vadodara flight to explore this magnificent palace.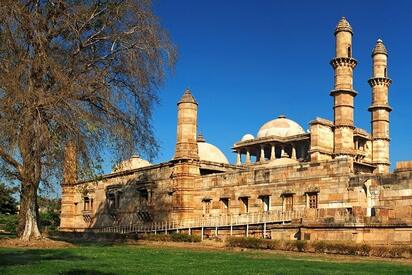 Champaner – Pavagadh Park
This archeological park is a UNESCO World Heritage site and one of the most sought-after places in Gujarat. The park holds both historical and mythological significance. According to the legends, the hill of Pavagadh is believed to be the chunk of the Himalayas that Lord Hanuman originally carried to Lanka.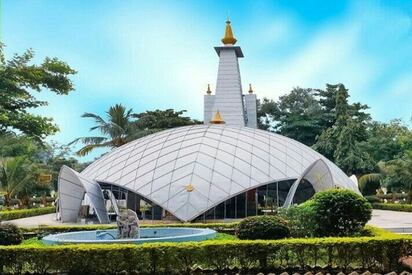 EME Temple
Also known as Dakshinamurthy temple, EME temple was built in 1966 and is run by the Indian Army. The temple is dedicated to Lord Shiva. This geodesic structure, covered with an aluminum-clad abode was constructed at the intersection of ancient and modern.
FAQs
What is the flight duration from Hyderabad to Vadodara?

It takes just 01 hour 30 minutes to reach Vadodara from Hyderabad by flight.

Are there any non-stop flights available for Hyderabad to Vadodara?

Only IndiGo offers one nonstop flight from Hyderabad to Vadodara.

What are the best flights from Hyderabad to Vadodara?

To avail Hyderabad to Vadodara flight, book your seat with Indigo at the cost of INR 4,250 for a one-way ticket and INR 9,216 for a round trip.

How many flights are there between Hyderabad and Vadodara?

There are 62 flights available between Hyderabad and Vadodara on a daily basis. So, it is not tough to get a flight even at the last-minute.

Which airlines offer the most frequent flights between Hyderabad and Vadodara?

With 29 daily flights from Hyderabad to Vadodara, Air India offers the most frequent flights on this route. However, there are other options too. You can book a flight according to your schedule.

Which Airports will I be using to fly from Hyderabad to Vadodara?

You will board a flight from Rajiv Gandhi International Airport and land at Vadodara Airport (HYD-BDQ).

What is Vadodara famous for?

Vadodara is known for its rich architecture and fabric. The city is famous for Patola Silk sarees, embroidered quilts, bandhnis, khadi, traditional ghagras,, hand-made bangles, khadi, and other hand-made jewelleries.

Which language is spoken in Vadodara?

Gujarati is widely spoken in Vadodara.

Is Vadodara worth traveling to?

It is considered as one of the best places for explorers. However, it's best to follow a travel itinerary to avoid any unnecessary confusion.
Flights To Hyderabad
Flights From Hyderabad
Airport Near Hyderabad
Rajiv Gandhi International Airport
Flights To Vadodara
Lucknow to Vadodara Flights
Jammu to Vadodara Flights
Bareilly to Vadodara Flights
Flights From Vadodara
Airports Near Vadodara
Sardar Vallabhbhai Patel International Airport
Bhavnagar Airport