Book Cheap Flights- Save Huge
About Kathmandu Flight
Kathmandu, the national capital of Nepal and the country's most visited destination, is known for its natural beauty, ancient temples, golden pagodas, etc. to offer. There are many options for adventure sports as well too. It has multiple UNESCO heritage sites and is also known for its local cuisine too. Tourism has grown greatly in the country so booking a Kolkata to Kathmandu flight has become easier.
It is important to know that the nearest airports between the two destinations are: Netaji Subhas Chandra Bose International Airport and the Tribhuvan International Airport (CCU – KTM).
Best Time to Book Kolkata to Kathmandu flight
The peak season for touring the city is usually during the months from September to December. These coincide with Autumn season in the city. The weather is great making it a good time to tour.
Details About Kolkata to Kathmandu flight
The distance by air from Kolkata To Kathmandu (CCU – KTM) is 638 km. One can take flights when travelling this route. Numerous airlines like Air India, Vistara, IndiGo, etc. all offer flights on this route. There are about 5 weekly flights available only. It takes about 01h 25m to complete the trip.
The Kolkata to Kathmandu flight price is lowest for a one-way trip with Air India at INR 9,671 and for Round Trip flights with Air India combined at INR 18,418.
Furthermore, the nearest airports to travel between the two cities are: The Netaji Subhas Chandra Bose International Airport and the Tribhuvan International Airport (CCU – KTM).
Here are some insights into the flight fares from Kolkata to Kathmandu (CCU – KTM).
Best Places to Eat in Kathmandu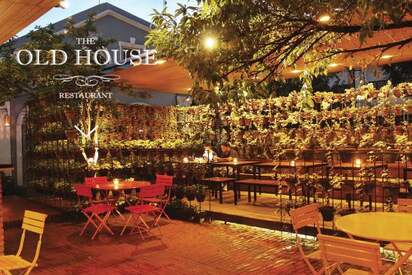 Old House Restaurant
The restaurant has a great setting that is pleasing to the eye. It has a great blend of modern and classic ambience. Add to that that high quality dining experience and service makes it a great option for all.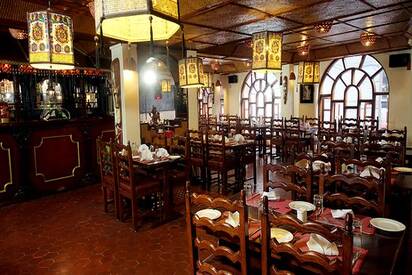 Third Eye Restaurant
The restaurant was established in 1989. It has a nice vibe to it and is greatly appealing. One of the best places in the city to taste Indian and Nepalese cuisine. It is well liked by the public too.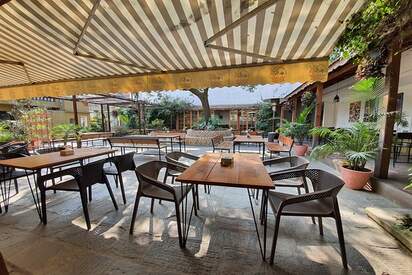 Melrose Restaurant & Bar
It is a beautiful open air country styled restaurant. The greenery adds a nice natural touch to it. It is mainly popular for its Italian delicacies. It is nice and peaceful too, making it great for relaxation and having a good time.
Best Hotels to Stay in Kathmandu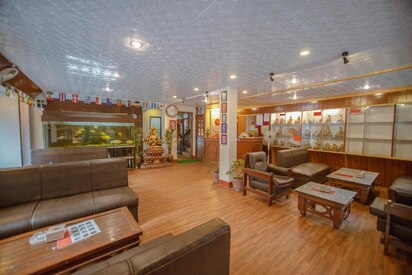 Hotel Triratna
Location: Kwa Bahal, Buddha galli, Kathmandu 44600, Nepal
Price : INR 820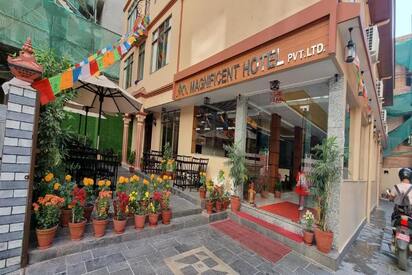 Magnificent Hotel
`Location: Keshar Mahal Marg, Kathmandu 44600, Nepal
Price : INR 2,498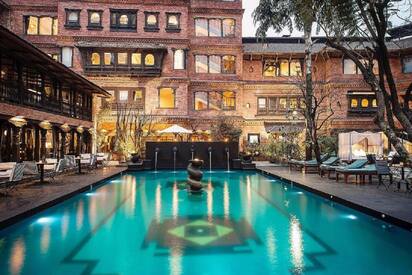 Dwarika's Hotel
Location: Battisputali Road, Kathmandu 44604, Nepal
Price : INR 26,324
Best Places to Visit in Kathmandu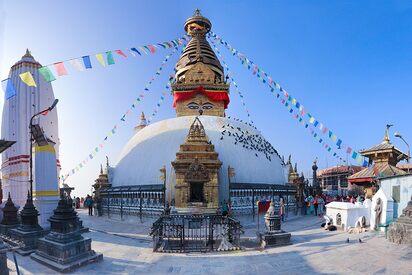 Swayambhunath Temple
It is one of the city's most religious shrines. It attracts visitors on a daily basis. Going around the temple in a circular pattern is a common practice which is believed to wash away sin. It has been in existence for centuries now and holds great importance among Buddhists and Tibetans.
Narayanhiti Palace
It is a former Royal Palace which has now been converted into a museum. It once housed the monarchs of Nepal. The museum exhibits art pieces, ornaments, old furniture, etc. all of which belonged to the Royal Family. The palace has witnessed several incidents throughout history.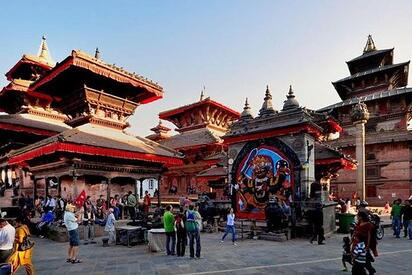 Hanuman Dhoka
The royal palace was once home to the Shah dynasty and Malla kings. The complex houses multiple ancient structures It gets the name from an antique idol of Lord Hanuman near the main entrance of one of its ancient palaces. IT is spread out over an area of around 5 acres.
FAQs
What is the cheapest month to fly to Nepal?

February is considered the cheapest month to fly to Nepal according to our research.

How many days are sufficient to visit Kathmandu?

4 days should be enough for a nice and smooth tour of the city.

Is Nepal tourist friendly?

Yes, the country is considered safe for tourists as long as they follow basic guidelines.

Which Indian cities have direct flights to Kathmandu?

Multiple Indian cities like Delhi, Mumbai, Varanasi, Kolkata, Bangalore, etc. have direct flights to Kathmandu. A Kolkata to Kathmandu direct flight is a great option for tourists.

Is there a train from India to Kathmandu?

No, there is no train from India to Nepal.

Which airlines fly to Kathmandu from India?

Vistara, DrukAir, Nepal Airlines, Indigo, Air India, etc. offer India to Kathmandu flights.

Which is the largest airport in Nepal?

Tribhuvan International Airport is considered the largest airport in Nepal.

What is Kathmandu most famous for?

It is most famous for its religious monuments which attract several tourists every year.

What tourist attractions does Kathmandu offer?

It has multiple attractions like the Garden of Dreams, Kathmandu Durbar Square, National Museum Of Nepal, etc.

Is Kathmandu good for tourists?

Yes, it has numerous attractions and great appeal. It is also safe making it an ideal place to tour.