Book Cheap Flights- Save Huge
About Bhubaneswar
Bhubaneswar, the temple city of India is also the capital of Odisha. This ancient city in India is home to many temples built from sandstone. There is a 11th century Hindu Lingaraja temple, which is visited by millions of tourists. Book Ranchi to Bhubaneswar flights and explore the city's numerous attractions.
Best Time to Book Ranchi to Bhubaneshwar Flights
Bhubaneswar features a tropical savanna climate, with high humidity, medium to high rainfall, and mild winters. The best time to visit Bhubaneswar is during winter (October-February), when the weather remains cool and pleasant.
Details About Ranchi to Bhubaneshwar Flights
If you are planning to visit Bhubaneswar from Ranchi, then it is better to book a flight to reach your destination within an hour. The distance between the two cities is 468 km and might take around 10 hours if you travel by road. However, many prefer to take Ranchi to Bhubaneswar flights.
Only IndiGo, AirAsia, and Visara offer flights on this route. There are only 14 flights available daily, so book in advance. Additionally, there is only one nonstop flight, offered by IndiGo. So, if you are traveling with another airline, expect one or more layovers at Kolkata, Delhi, and Hyderabad.
The average airfare for a one-way flight may cost you around INR 5,432 and INR 10,457 for a round trip. As per our research, IndiGo is offering cheaper Ranchi to Bhubaneswar flight ticket.
The nearest airports between the two cities are- Birsa Munda Airport and Biju Ranchiik International Airport (IXR-BBI).
Best Restaurants in Bhubaneswar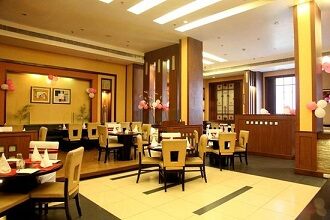 Zaika
Zaika, a multi-cuisine restaurant in Pal Hotel, is one of the popular restaurants in the city. Although it serves various cuisines, its strength lies in north Indian fare. Visit them for lunch, as their buffet is actually a spread of more than ten scrumptious dishes.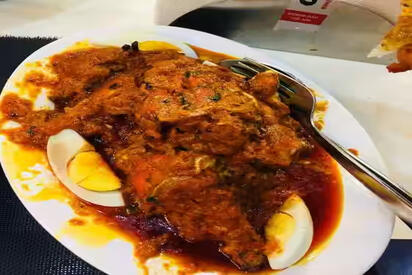 The Chicken Dinesty
If you are a chicken-fan, then the Chicken Dynesty is a must-visit place. It serves delicious north Indian and Chinese fare. From konjee crispy prawn to mushroom baby corn, devil's chicken with salt and pepper, TCD is undoubtedly a go-to spot for the locals.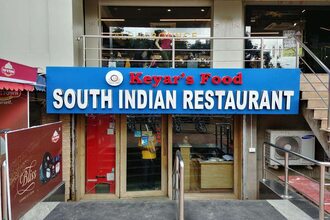 Keyars
This simple restaurant with minimalist decor has been serving the city's community since long. Its diverse menu features south Indian delicacies like idli, upma, dosa to north Indian dishes like chole bhature, naan, tandoori, and Chinese noodles.
Best Hotels in Bhubaneswar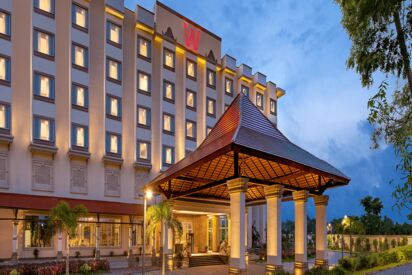 Welcomhotel by ITC Hotels
Location: D1, Dumduma, Bhubaneswar, Odisha 751019
Price : INR 7,200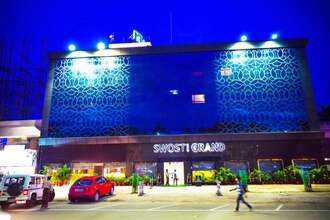 Swosti Grand
`Location: Kharvela Nagar, Bhubaneswar, Odisha 751001
Price : INR 3,300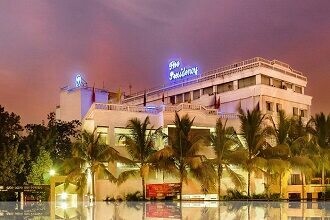 The Presidency
Location: 1471/A, Nayapalli, Bhubaneswar, Odisha 751015
Price : INR 1,970
Places to Visit in Bhubaneswar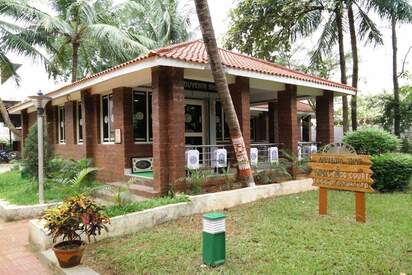 Museum of Tribal Arts & Artifacts
Also goes by the name Museum of Man, it is popular as one of the best museums in the country to promote tribal art and culture. It was founded in 1953. Visitors can take a stroll around the five different halls that display the local tribes, their culture, ornaments, and musical instruments.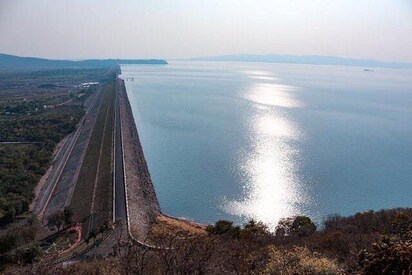 Hirakund Dam
Hirakund Dam over river Mahanadi,was constructed in 1956. It is the longest man-made dam in India. Every year, a large number of birds visit the dam, making it a hotspot of migratory birds, including bar-tailed godwit, blue-tailed beaa-eater, yellow-billed duck, and caspial tern.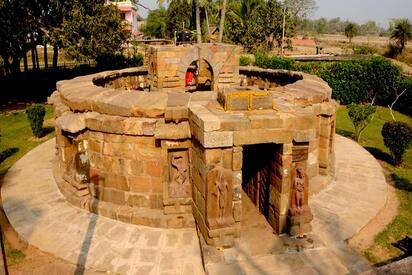 Chausath Yogini Temple
Chausath Yogini temple or Mayamaya temple is dedicated to the worship of yoginis and tantric shrines. The legend has it that, it is here that goddess Durga took-up the form of 64-demi goddesses to defeat the demon. Today, the temple is maintained by the Archeological Survey of India.
FAQs
What is the new airline in Bhubaneswar?

After Akasa Air added Bhubaneswar as another destination to its network, the airline became the third airline offering its service in the city.

Are there any non-stop flights available for Ranchi to Bhubaneswar?

At the moment, only IndiGo offers one nonstop flight from Ranchi to Bhubaneswar.

What is the lowest flight price from Ranchi to Bhubaneswar?

IndiGo offers comparatively cheaper airfare for Ranchi to Bhubaneswar air route, which starts from INR 5,432 and INR 10,457 for a round trip.

Is Bhubaneswar safe to travel?

Bhubaneswar is a safe city even for solo travelers. However, pickpocketing is common and hence be careful in market areas and crowded places. Avoid the highways at night.

How many flights from Ranchi and Bhubaneswar?

There are 14 flights per day available on the Ranchi-Bhubaneswar route. The most frequented flights on this route are offered by AirAsia, Vistara and Indigo.

Which Airports will I be using to fly from Ranchi to Bhubaneswar?

You will board a flight from Birsa Munda Airport and land at Biju Patnaik International Airport (IXR-BBI).

How much time does flight take from Bhubaneswar and Ranchi?

It takes around an hour to reach Bhubaneswar from Ranchi by flight.

What is Bhubaneswar famous for?

This capital city of Odisha boasts several ancient temples, which are thousands of years old, and due to which it has become India's 'Temple city'. Tourists visit the city to explore its ancient temples, and caves.

Which language is spoken in Bhubaneswar?

Oriya is spoken widely in Bhubaneswar.

Which day is the cheapest to fly to Bhubaneswar?

Wednesday is the cheapest day of the week to fly to Bhubaneswar.