Book Cheap Flights- Save Huge
Gwalior in Madhya Pradesh is one of India's most historic cities. It is dotted with massive hilltop forts, magnificent palaces, and temples. The city was founded by king Surajesan. It is known for Gwalior Fort, a magnificent example of Indian architecture, the world's two massive chandeliers, and the world's largest carpet. With so many attractions to discover, Gwalior is well-connected with other parts of the country. You can easily get flights to Gwalior from other major Indian cities.
Best Time to Book Flights to Gwalior
Gwalior has a hot and humid climate all year. So, the best time to book flights to Gwalior is between October and March when the weather is better for sightseeing.
Top Places to Visit in Gwalior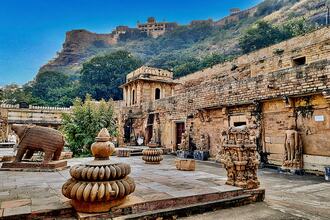 Gujari Mahal
This 15th century site built by Man Singh for his wife Mriganayani, has now turned into Gujari Mahal Archaeological Museum. It houses sculptures, statues, and other artifacts that range between 1st and 2nd century BC.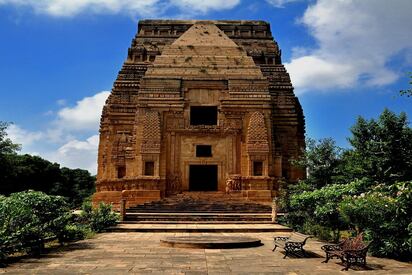 Teli ka Mandir
Teli Ka Mandir is a 9th century BC temple, located in Gwalior Fort. It is also the highest building in the city. Additionally, the temple was used to process oil before British took over the Gwalior Fort.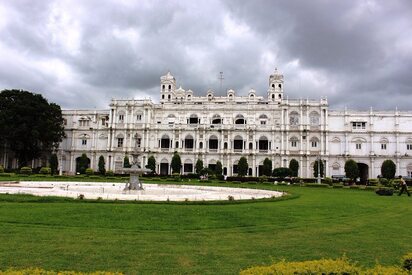 Scindia Museum
The museum is dedicated to Jivaji Rao Scindia and was established in 1964. It occupies 35 rooms of Jai Vilas Palace and houses a collection of sculptures, manuscripts, coins, and paintings.
Popular Flight Routes to Gwalior
| | | | |
| --- | --- | --- | --- |
| Departing | Destination | Duration | Best Price |
| Delhi | Gwalior | 01h:00m | INR 2,130 |
| Indore | Gwalior | 04h:10m | INR 7,033 |
| Bangalore | Gwalior | 03h:20m | INR 4,059 |
| Mumbai | Gwalior | 01h:55m | INR 4,558 |
| Kolkata | Gwalior | 02:40m | INR 5,026 |
Popular Airports in Gwalior
Rajmata Vijaya Raje Scindia Airport (GWL)is the only domestic airport that serves Gwalior. Some popular airlines serving the airport are IndiGo, Spicejet, and Alliance Air. As per 2022-2023 statistics, the airport has received 218,245 and managed 3,424 aircraft movements.
When Is the Best Time to book Cheap Flight to Gwalior?
You can book a direct flight to Gwalior either between October and March. However, if you are looking for affordable flight and hotel rates, set an alert and keep checking the airfare.
Which is The Cheapest Day to Fly to Gwalior?
As per our research, Wednesdays are the best days to get an affordable cheap flight to Gwalior. If you are planning to visit during high peak season or on holidays, book flights at least one month before, when the prices are comparatively low.
Which Time of The Day is The Cheapest to Book Flights to Gwalior?
Early mornings and evenings are considered the best and cheapest time of the day to get the flight to Gwalior.
Top Tips to Get Cheap Flights to Gwalior
Round Trip Tickets
On an average, round trip tickets are cheaper than one-way flight tickets. If you know the date of your return journey, book a round trip ticket to save at least 12%.
Off Season
Travel during the off-season or shoulder season, when the airlines decrease their price.
Set Price Alert
The airfare constantly fluctuates. To get an inexpensive flight ticket that will save some extra bucks, set a price alert.
Identify the Cheapest Day and Time
Generally, during weekdays airlines drop their price and increase during the weekends and holidays. If your travel date is flexible, book when the price is cheaper.
FAQs
Which flight goes to Gwalior?

IndiGo, Air India, Spicejet, Alliance Air, etc. are the popular airlines that operate direct/non-stop flights to Gwalior.

When is the best time to book cheap flights to Gwalior?

Wednesdays are considered to be the best times to book cheap flights to Gwalior.

What time of the day is the best to get cheap flights to Gwalior?

Early mornings and evenings are the best time of the day to get cheap flights to Gwalior.

What is the nearest airport to Gwalior City?

Rajmata Vijaya Raje Scindia Airport (GWL) is the major airport that serves Gwalior.

How many airports are there in MP?

Madhya Pradesh has 8 airports, including two international airports in Bhopal and Indore.

How can you save money on flight with lowestflightfare.com?

We aggregate real-time information of hundreds of flights and offer you a wide range of options available. We show you all flight options available on the route, from where you can choose the cheapest one. If you are not happy with the search results, you can set a 'Price Alert,' which will inform you whenever the prices decrease.

What is Gwalior famous for?

Madhya Pradesh's historic city Gwalior is famous for the massive and marvelous Gwalior fort, glorious palaces, and ancient temples. This city is steeped in history and is one of the must-visit destinations for history buffs.

Which language is spoken in Gwalior?

Hindi is widely spoken in Gwalior.