Book Cheap Flights- Save Huge
About Sikkim
Sikkim, the only brother of the seven sisters of northeast India, is known for its rich Buddhist cultural heritage. Bordered by Bhutan, Tibet, and Nepal, Sikkim plays an important strategic role in India's foreign policy. Furthermore, it boasts dramatic landscapes of Kanchenjunga, the world's third largest mountain, glaciers, alpine meadows, and a wide variety of wildflowers. Tourists often book flights to Sikkim to visit its Buddhist monasteries, Hindu temples, and its glacial lakes.
Best Time to Book Flights to Sikkim
Sikkim has tropical, temperate, and alpine climate, which vary from sub-tropical southern part to cold deserts in the snowy north. The best time to explore Sikkim is either between March and May or between October and mid-December.
Top Places to Visit in Sikkim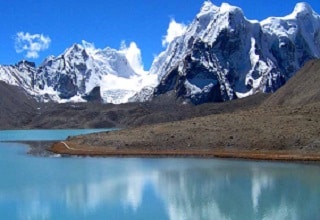 Tsomgo Lake
12,400 feet above sea level, this glacial lake has been attracting visitors since time immemorial. As you approach the water, the view will surprise you: snow-covered mountain ranges, emerald waters, a sense of tranquility, and the fairyland setting around you—it truly is a masterpiece of nature.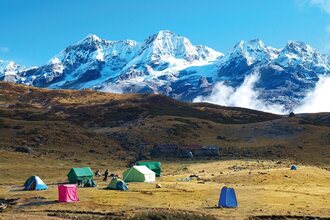 Kanchenjunga Mountain
It is the world's third largest mountain and is clearly visible from almost anywhere in Gangtok. Nonetheless, if you are interested in beholding the unspoiled beauty of the snow-clad mountain, then join a group of trekkers and make your campsite somewhere at the base of the mountain range.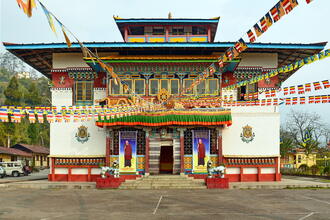 Phodong Monastery
Gangtok has several monasteries where you may get peace and solitude. Among these monasteries, Phodong Monastery is an acclaimed one. It is one of the most sacred Buddhist sites in Gangtok, where you can learn more about Buddhist culture and history.
Popular Flight Routes to Sikkim
Since Pakyong Airport that serves Gangtok is a seasonal airport, hence, you may not find regular flights. You may book flights to Bagdogra, and from there, you can easily hire a taxi, cab, or any other public transport.
Popular Airports in Sikkim
Pakyong Airport (PYG) is a seasonal airport that serves Gangtok. According to 2021-22 statistics, the airport had 754 aircraft movements and received at least 44,740 passengers worldwide.
When Is the Best Time to book Cheap Flight to Sikkim?
You can book a direct flights to Sikkim either between March and May or between October and mid-December. However, airlines hike the price during the state's peak season and so book the flight at least a month before.
Which is The Cheapest Day to Fly to Sikkim?
As per our research, Tuesdays, and Wednesdays are the best days to get an affordable cheap flights to Sikkim. If you are planning to visit during high peak season or on holidays, book flights at least one month before, when the prices are comparatively low.
Which Time of The Day is The Cheapest to Book Flights to Sikkim?
Mornings are considered the best and cheapest time of the day to get the flights to Sikkim.
Top Tips to Get Cheap Flights to Sikkim
Round Trip Tickets
On an average, round trip tickets are cheaper than one-way flight tickets. If you know the date of your return journey, book a round trip ticket to save at least 15%.
Off Season
Travel during the off-season or shoulder season, when the airlines decrease their price.
Set Price Alert
The airfare constantly fluctuates. To get an inexpensive flight ticket that will save some extra bucks, set a price alert.
Identify the Cheapest Day and Time
Generally, during weekdays airlines drop their price and increase during the weekends and holidays. If your travel date is flexible, book when the price is cheaper.
FAQs
Which airlines offer direct flights to Sikkim?

Spicejet is a popular airline that operates seasonal flights to Sikkim

Which are the most preferred airlines to fly to Sikkim?

Spicejet is the most preferred airline to fly to Sikkim.

When is the best time to book cheap flights to Sikkim?

Tuesdays and Wednesdays are considered to be the best times to book cheap flights to Sikkim.


What time of the day is the best to get cheap flights to Sikkim?

Mornings are the best time of the day to get cheap flights to Sikkim.

Which is the major international airport in Sikkim?

Pakyong Airport (PYG) is a seasonal airport that serves Sikkim.

How Lowestflightfares.com helps you get cheap flight tickets?

Lowestflightfares.com shows deals across 100+airlines at once so that you can have access to a wide array of flights for a single day from which you can book the one that suits your requirement.


How can you save money on flight with lowestflightfares.com?

We aggregate real-time information of hundreds of flights and offer you a wide range of options available. We show you all flight options available on the route, from where you can choose the cheapest one. If you are not happy with the search results, you can set a 'Price Alert,' which will inform you whenever the prices decrease.

What is Sikkim famous for?

Sikkim is known for virgin forests, gushing waterfalls, emerald lakes, snow-clad mountains, and the rich cultural heritage of Buddhism.

Which language is spoken in Sikkim?

Bhutia and Nepali are widely spoken in Sikkim.