Book Cheap Flights- Save Huge
About Dhaka
Dhaka, the capital of Bangladesh, on the river Buriganga, is the country's political, cultural and trade center. With 16 million residents, Dhaka is one of the world's most densely populated cities. However, tourists often book a Delhi to Dhaka flight to explore its historic buildings from the Mughal and colonial period.
Best Time to Book Delhi to Dhaka Flights
Dhaka has a tropical wet and dry climate and remains hot yearlong. Avoid visiting the city during summer and instead plan your trip either in fall or in winter. Winter is the perfect time to explore the city's best attractions.
Details About Delhi to Dhaka Flights
The aerial distance between Delhi to Dhaka is 1,819 km. Several airlines like Biman Bangladesh, IndiGo, Vistara, Air India, Cathay Pacific, Turkish Airlines, offer flights on this route. There are 116 flights available on this route on a daily basis. It takes 02 hours 15 minutes to reach your destination.
To avail Delhi to Dhaka flight, book your seat with Biman Bangladesh at the cost of BDT 6,719 for a one-way trip, and BDT 13,240 for a round trip.
Furthermore, the nearest airports between the two cities are Indira Gandhi International Airport and Hazrat Shahjalal International Airport (DEL-DAC).
Here are some insights concluding flight fares from Delhi to Dhaka:
Best Restaurants in Dhaka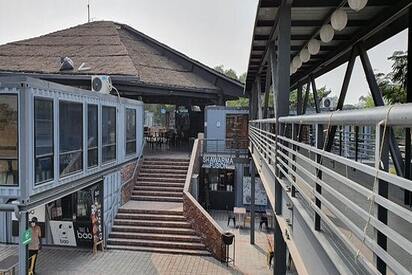 Chef's Table Courtside
This food court is visited by the locals during the evening due to its quiet environment. There is a mini park, football court, kid's zone, and spacious seating area. It houses 35 popular food chains, including Pizza guy, El Dorado, CRISP, Chittagong Bull, etc., that can cater to all taste buds.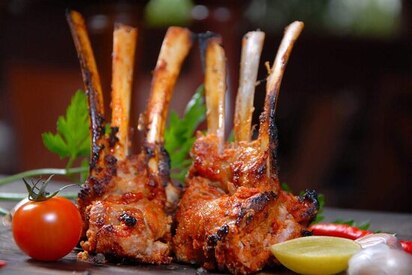 Kebab Factory
Kebab Factory is one of the best spots in the city to relish juicy kebabs and other barbequed dishes. Relish their reshmi kebab, Bihari kebab, and Afghan kebab. It has both indoor and outdoor seating and offers a warm and cozy ambience.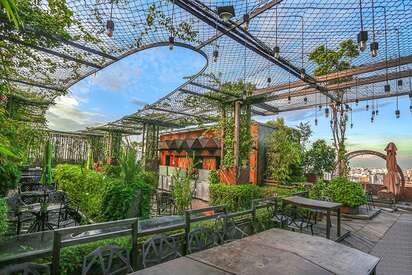 The Green Lounge
For an upscale dining experience, head to The Green Lounge. It is the largest rooftop restaurant in the city and is decorated with plants and bamboo. They offer a multi-cuisine buffet, which is worth every penny.
Best Hotels in Dhaka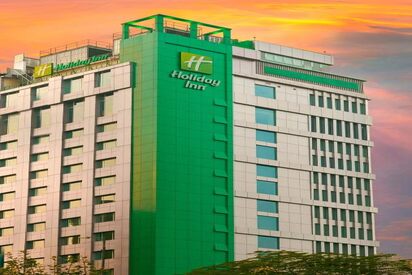 Holiday Inn
Location: 23 Shaheed Tajuddin Ahmed Ave, Dhaka 1208, Bangladesh
Price : BDT 11,137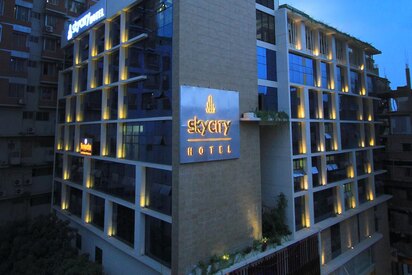 Sky City Hotel
`Location: 47 Shiddeshwari Circular Road, Dhaka 1217, Bangladesh
Price : BDT 7,137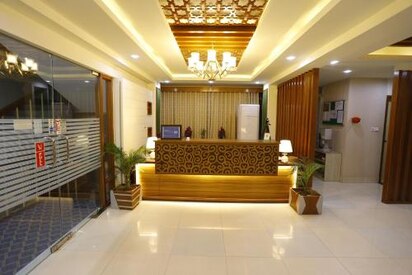 Hotel Grand Circle
Location: 873 Outer Circular Rd, Dhaka, Bangladesh
Price : BDT 2,450
Places to Visit in Dhaka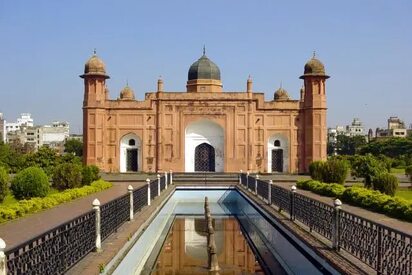 Lalbagh Fort
Visit this 17th century Mughal fort in Dhaka, built by Muhammad Azam, one of the sons of Aurangzeb. However, he left for the capital city Delhi to participate in a war, leaving the fort unfinished. It was later completed by his maternal uncle Shaista Khan.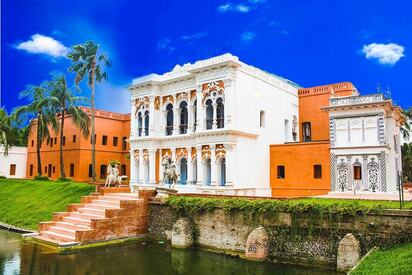 Sonargaon
The history of Sonargaon dates back to the 15th century. It is dotted with opulent architecture from the Sultanate, Mughal, and colonial periods. The Panam city is located nearby and tourists often head to the city from Sonargaon to explore its rich history and architecture.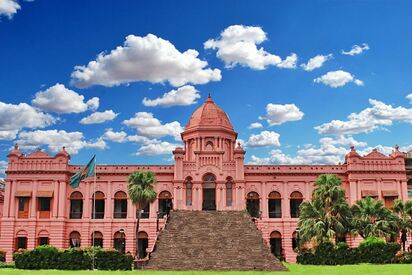 Ahsan Manzil
Also known as the Pink Palace due to its color, is one of the major highlights of the city. It was once the residence of the wealthiest family of Dhaka during British rule. In 1740, it was used as an entertainment house for a local landlord, but later turned into a French trade house.
FAQs
Which are the most preferred airlines from Delhi to Dhaka?

Biman Bangladesh, IndiGo, Vistara, Air India, Turkish Airlines, Cathay Pacific are the most preferred airlines from Delhi to Dhaka.

How much in advance do I need to book for Delhi Dhaka cheapest flight tickets?

Usually, to get the cheapest flight tickets from Delhi to Dhaka, you need to book the flight two weeks before.

How can I check my Delhi to Dhaka flight booking status?

To check your Delhi to Dhaka flight booking status, visit the airline's website and enter your PNR. Follow the further instructions to get the most updated status of your flight.

How far is Delhi to Dhaka by plane?

The aerial distance between Delhi and Dhaka is 1,819 km. It takes just 02 hours 15 minutes by plane to reach Dhaka from Delhi.

What is the price of Dhaka air ticket?

The average cost of a Delhi to Dhaka one-way ticket is BDT 6,719 for a one-way trip, and BDT 13,240 for a round trip.

Which time is best for Dhaka trip?

Winter is the best time for a Dhaka trip. You can also visit the city during Fall, which is also the shoulder season.

What is Dhaka famous for?

Dhaka is the capital of Bangladesh and is known for its rich culture. It is known all over the world for mosques and muslin.

Which language is spoken in Dhaka?

Bengali is the official language of Dhaka.
Flights To Delhi
Flights From Delhi
Airports Near Delhi
Indira Gandhi International Airport