Book Cheap Flights- Save Huge
About Imphal
Imphal, the capital of Manipur in the northeastern region of India, is a hidden paradise. It is inhabited by a diverse tribal community. Its untouched green landscapes, abundant flora and fauna, and distinctive culture and traditions make it a popular destination in the eastern part of the country. However, the traditional and cultural aspects of Imphal differ greatly from the rest of India. Therefore, taking a Kolkata to Imphal flight will allow you to explore its fascinating history that dates back to the time of Mahabharata.
Best Time to Book Kolkata to Imphal Flight
Imphal has a humid subtropical climate, characterized by cool and dry winters, along with a mild hot monsoon season. For those planning to fly from Kolkata to Imphal, it is advisable to book flights between September and April, as the weather during this period is ideal for sightseeing.
Details About Kolkata to Imphal Flight
A few domestic airlines such as IndiGo, Air India, Vistara, offer 31 flights regularly from Kolkata to Imphal. However, IndiGo and Air India offer one four nonstop flights on this route that takes an hour. If you are booking some other flights, then expect one or more layovers at Guwahati, Dibrugarh, and Shillong.
Additionally, the cheapest Kolkata to Imphal flight ticket price is offered by IndiGo. It may cost you around INR 3,827 for a one-way trip and INR 8,476 for a return trip. Moreover, while traveling on this route by flight, consider the nearest airport for your convenience.
Best Restaurants in Imphal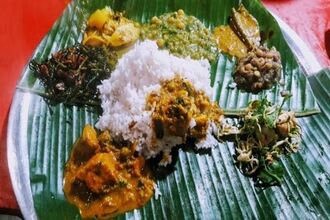 Chakluk Hotel
This restaurant in Manipur offers a delightful opportunity to immerse yourself in the local culinary scene by sampling their authentic meals. Their menu boasts a selection of top-notch fish-based dishes, including rice with sareng porom and various other fish dishes served with rice.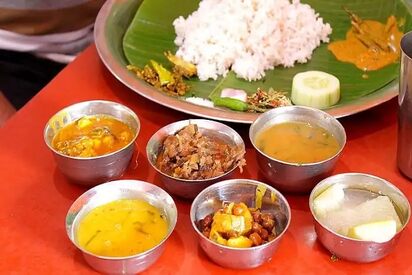 Hotel Imoinu
It is known for its delicious Manipuri thalis, both vegetarian and non-vegetarian. The food served there is of excellent quality and the portion sizes are generous, making it worth the price. It is definitely worth a visit to experience the authentic flavors of Manipuri cuisine.
Ok Hotel
The locals in Manipur highly favor Ok Hotel, which is known for its delectable chicken dishes and affordability. The restaurant tends to be bustling during lunch hours, but if you prefer to dine comfortably at home, they offer convenient takeaway services. It is a popular choice for chicken enthusiasts.
Best Hotels in Imphal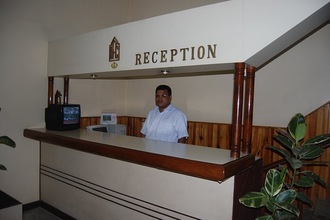 Anand Continental
Location: RW7P+2GW, Thangal Bazaar, Khoyathong Road, Majorkhul, Thangal Bazar, Imphal, Manipur 795001
Price : INR 18,650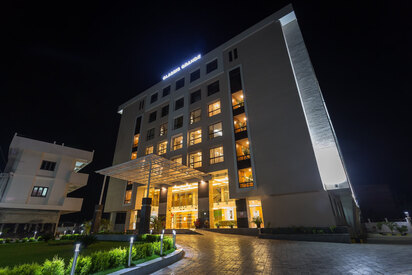 Classic Grande, A Member of Radisson Individuals
`Location: Mamang Leikai, Chingmeirong, Imphal, Manipur 795010
Price : INR 6,800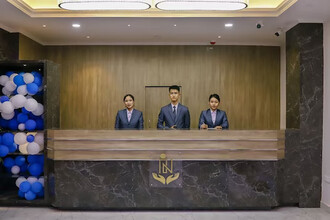 Hotel Imolesh
Location: Old Lambulane Rd, opposite GP women's college, Sanakhwa Yaima Kollup, Imphal, Manipur 795001
Price : INR 3,200
Places to Visit in Imphal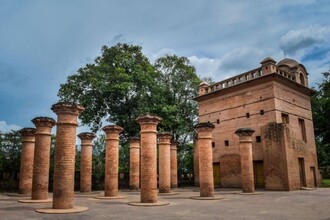 Kangla Fort
Situated on the banks of Imphal River, Kangla Fort served as the residence of Manipuri King Pakhangba in the past. This historical stronghold not only acted as the ruling seat but also served as the ancient capital of Manipur, maintaining an unbeatable status from 33 AD to the 19th century. Within its walls, one can find majestic palaces, sacred temples, and resting places for members of the royal family.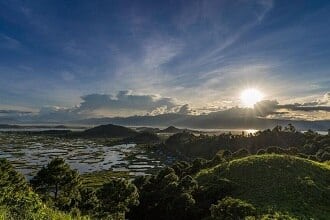 Keibul Lamjao National Park
It is the only floating national park in the world. It is located in Loktak Lake, which is the largest freshwater lake in South Asia. The park is home to Manipur's state animal Sangai deer, an endangered species of deer. Apart from it, the park is also home to several regional flora and fauna.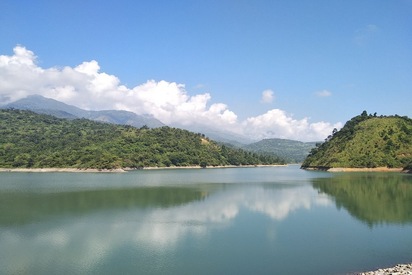 Singda Dam
Situated 16 km away from Imphal, the Singda Dam proudly holds the title of being the tallest mud dam in the world. Resting at an elevation of approximately meters above sea level, it has become a favored destination for picnickers due to its breathtaking landscapes and peaceful ambiance.
FAQs
What is the flight duration from Kolkata to Imphal?

It takes one hour to reach Imphal from Kolkata By flight.

Are there any non-stop flights available for Kolkata to Imphal?

Only Air India and IndiGo offer nonstop flights between Kolkata and Imphal.

What is the best air fare from Kolkata to Imphal?

To avail Kolkata to Imphal flight, book your seat with IndiGo at the cost of INR 3,827 for a one-way trip, and INR 8,476 for a round-trip.

How many flights are there between Kolkata and Imphal?

There are 31 flights available between Kolkata and Imphal on a daily basis.

Which Airports will I be using to fly from Kolkata to Imphal?

You will board a flight from Netaji Subhash Chandra Bose International Airport and land at Bir Tikendrajit International Airport (CCU-IMF).

Which is the earliest flight from Kolkata to Imphal?

The earliest and fastest flight from Kolkata to Imphal is offered by IndiGo, which departs at 04:55 am and reaches its destination at 08:50 am.

What is Imphal famous for?

Imphal, the capital of Manipur is one of the ancient Indian cities, known for its scenic landscapes, diverse cultural heritage, tradition, and tribes. It is also home to world's largest freshwater lake Loktak Lake.

Which language is spoken in Imphal?

Meitei or Manipuri is widely spoken in Imphal. However, Hindi and English are common too.

Is Imphal worth traveling to?

It is considered as one of the best places for explorers. However, it's best to follow a travel itinerary to avoid any unnecessary confusion.
Flights To Kolkata
Flights From Kolkata
Airports Near Kolkata
Netaji Subhash Chandra Bose International Airport
Flights To Imphal
Ahmedabad to Imphal Flights
Goa to Imphal Flights
Jammu to Imphal Flights
Pune to Imphal Flights
Flights From Imphal
Imphal to Indore Flights
Imphal to Lucknow Flights
Imphal to Varanasi Flights
Imphal to Raipur Flights
Imphal to Amritsar Flights