Book Cheap Flights- Save Huge
About Africa
Africa is the world's second largest and second most populous continent. Being home to one of the world's richest wildlife, Africa receives a large number of tourists annually. Additionally, with more than 50 countries, each with their fascinating culture and landscape, it is hard to narrow down the best place to visit. However, if you are looking for a long vacation here, book flights to Africa and experience a different world of wilderness and adventure.
Best Time to Book Flights to Africa
Out of all continents, Africa is the most tropical. However, the climate varies from equatorial rainforests to tropical deserts, and savanna grassland to Mediterranean, depending on the geographical setting of each African country. Africa is a safari destination and hence tourists flock to the continent only when there is a high chance of spotting wild animals. The best time to visit the continent is between May to September, when vegetation thins out and animals congregate around the remaining water source.
Places to Visit in Africa
Serengeti National Park
If you are visiting Africa to explore its wilderness, you should take a safari ride in Serengeti National Park. There are always high chances of coming face to face with African elephants, giraffes, lions, wildebeests, etc.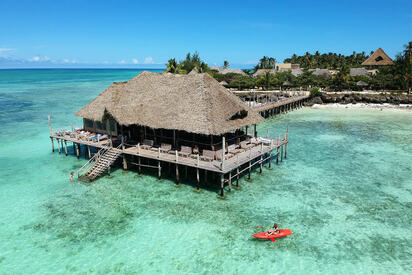 Zanzibar
If your imagination of Africa only consists of vegetation, thick jungles, and exotic wildlife, then head to Zanzibar. From turquoise water to white sandy beaches, a walk to this Indian archipelago off the coast of east Africa lets you enjoy plenty of sunshine and a perfect beach vacation.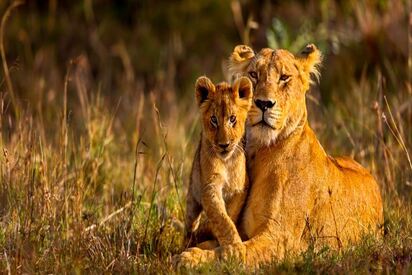 Masai Mara National Reserve
Masai Mara is home to cheetahs, lions, hippos, wildebeests, elephants, zebras, etc. This preserved savannah wilderness in southwestern Kenya sees a huge annual migration of these majestic animals that traverse its plains.
Popular Flight Routes to Africa
| | | | |
| --- | --- | --- | --- |
| Origin | Destination | Duration | Best Price |
| Gaborone | Cape Town | 04h:50m | USD 450 |
| Cairo | Johannesburg | 09h:45m | USD 384 |
| Benghazi | Cairo | 03h:10m | USD 310 |
| London | Cairo | 05h:40m | USD 290 |
| Brussels | Johannesburg | 12h:25m | USD 490 |
Popular Airports in Africa
There are a total of 477 airports in Africa, out of which 46 large airports and 431 medium airports. Here is a list of a few major international airports connecting Africa with the world.
| | | | |
| --- | --- | --- | --- |
| Airports | Code | City Served | Annual Passengers |
| Cape Town International Airport | CPT | City of Cape Town | 5,705,901 |
| Cairo International Airport | CAI | Greater Cairo | 14,711,500 |
| O.R. Tambo International Airport | JNB | Johannesburg, Pretoria | 9,633,154 |
| Addis Ababa Bole International Airport | ADD | Addis Ababa | 12,143,938 |
When Is the Best Time to Book Cheap Flight to Africa?
Visiting Africa off season may save you some bucks, but you will miss out on safari adventure. Hence, visit the continent during high peak season and book cheap flights to Africa at least two to four months prior to your journey.
Which is The Cheapest Day to Fly to Africa?
Wednesdays tend to be the cheapest day to fly. However, airfare may fluctuate. So keep a track of it and book instantly when it gets dropped.
Which Time of The Day is The Cheapest to Book Flights to Africa?
Book those flights, which depart either early in the morning or late night. People generally avoid these flights due to odd timing, and hence, you may crack a good deal on flight fares.
Top Tips to Get Cheap Flights to Africa
Round Trip Tickets
Round trip tickets are comparatively cheaper than one-way tickets. If you are sure about your return date, book it together to get cheap airfare.
Off Season
To get the best and affordable deals on flights and accommodation, visit Africa during off or shoulder season, when the crowds are already gone.
Set Price Alert
The airfare constantly fluctuates. To get an inexpensive flight ticket that will save some extra bucks, set a price alert.
Identify the Cheapest Day and Time
Generally, during weekdays airlines drop their price and increase during the weekends and holidays. If your travel date is flexible, book cheap flights to Africa when the price is cheaper.
FAQs
Which airlines offer direct flights to Africa?

Afriquiyah Airways, Aegean Airlines, Kenya Airways, Air Serbia, Egyptair, etc. are some of the most popular airlines, operating direct / non-stop flights to Africa.

Does Africa have any airports?

Africa has 477 airports, out of which, 46 are major airports that connect the continent with the world.

Which is the largest airport in Africa?

O.R. Tambo International Airports in Johannesburg is the largest and busiest airport in Africa.

What is the main airline out of Africa?

Afriqiyah Airways, Aegean Airlines, Kenya Airways, Air Serbia, Egyptair , etc. are the main and popular airlines out of Africa.

When is the best time to book a flight to Africa?

Booking a flight at least two weeks prior to your departure helps you get good deals on flight tickets.

Can I fly to Africa now?

Africa is a popular tourist destination and can be visited any time of the year. However, the months between May to October are considered ideal for safari.

What is the official language of Africa?

Swahili is widely spoken by 200 million people in Africa, followed by Yoruba, Igbo, and Fula.

Why is Africa famous?

Africa is mainly known for its wildlife, Sahara desert, and Mount Kilimanjaro. It also has 40% of the world's gold and up to 90% of its chromium and platinum. It is home to the world's largest reserves of cobalt, platinum, diamonds, and uranium.

How much are return flights to Africa?

It depends on which city or country in Africa you are flying to. However, on an average, it may cost you around US$ 852.
Popular Destinations In Africa
Cheap Flights to Cairo
Cheap Flights to Nairobi
Cheap Flights to Lagos
Cheap Flights to Accra
Cheap Flights to Johannesburg
Nearest Airports In Africa
Cape Town International Airport – CPT
Cairo International Airport – CAI
O.R. Tambo International Airport – JNB
Addis Ababa Bole International Airport – ADD