Book Cheap Flights- Save Huge
About Thailand
Thailand is a well-known destination for backpackers due to its affordability, safety, and ease of travel. Its stunning beaches, crystal-clear waters, secluded lagoons, intricate architecture, magnificent Buddhist temples, and historic ruins have captivated countless travelers. Book Cheap flights to Thailand to make it a budget-friendly option for those seeking adventure.
Best Time to Book Flights to Thailand
Thailand enjoys a tropical climate, highly influenced by seasonal monsoon winds. The weather can be classified as hot and humid. However, it remains cool throughout the winters. Hence, winter is considered the best time to visit Thailand.
Places to Visit in Thailand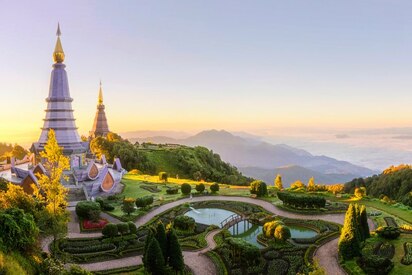 Chiang Mai
Chiang Mai, the former seat of Lanna kingdom, is one of the most beautiful cities in Thailand. The entire city is dotted with beautiful temples, monasteries, crowded markets, and street food vendors.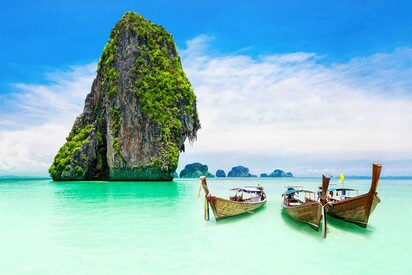 Phuket
Phuket is the largest island in Thailand and is visited by a large number of tourists from all over the world. From pristine beaches to offshore islands, busting markets, and high-octane nightlife, Phuket has no dearth of activities and attractions.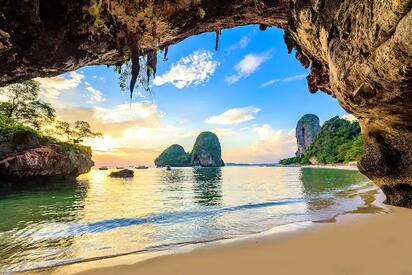 Krabi
Krabi island is another precious gem of Thailand, known for craggy limestone cliffs, dense mangrove forests, and hundreds of offshore islands. One of its popular beach destinations, Phi Phi Islands, attracts a huge crowd of tourists.
Popular Flight Routes to Thailand
| | | | |
| --- | --- | --- | --- |
| Origin | Destination | Duration | Best Price |
| Delhi | Bangkok | 04h:10m | ฿ 5,879 |
| Shanghai | Chiang Mai | 04h:25m | ฿ 4,625 |
| Dubai | Krabi | 07h:00m | ฿ 19,409 |
| Guangzhou | Phuket | 03h:45m | ฿ 3,157 |
| Singapore | Bangkok | 02h:20m | ฿2 2,717 |
Popular Airports in Thailand
There are a total of 39 airports in Thailand, out of which ten airports are international. Here is a list of the country's most popular airports.
| | | | |
| --- | --- | --- | --- |
| Airports | Code | City Served | Annual Passengers |
| Suvarnabhumi Airport | BKK | Bangkok Metropolitan Region | 28,754,350 |
| Phuket International Airport | HKT | Phuket | 16,855,637 |
| Krabi International Airport | KBV | Krabi | 3,051,969 |
| Chiang Mai International Airport | CNX | Chiang Mai | 10,230,070 |
| Mae Fah Luang – Chiang Rai International Airport | CEI | Chiang Rai | 2,867,289 |
When Is the Best Time to Book Cheap Flight to Thailand?
If you are looking for affordable flights, visit Thailand during the off tourist season. Although getting cheap flights to Thailand is not an easy nut to crack, with some tricks, you can get good deals. Since winter is the peak tourist season in Thailand, you may not get good affordable deals on flights and accommodations. Book either in off peak season or at least 2 to 4 months prior to your arrival.
Which is The Cheapest Day to Fly to Thailand?
Tuesdays and Wednesdays are the cheapest days to fly domestically. Wednesdays and Thursdays are best for international travel. Avoid holidays and weekends.
Which Time of The Day is The Cheapest to Book Flights to Thailand?
Book those flights, which depart either early in the morning or late night. People generally avoid these flights due to odd timing, and hence, you may crack a good deal on flight fares.
Top Tips to Get Cheap Flights to Thailand
Round Trip Tickets
Round trip tickets are comparatively cheaper than one-way tickets. If you are sure about your return date, book it together to get cheap airfare.
Off Season
To get the best and affordable deals on flights and accommodation, visit Thailand during off or shoulder season, when the crowds are already gone.
Set Price Alert
The airfare constantly fluctuates. To get an inexpensive flight ticket that will save some extra bucks, set a price alert.
Identify the Cheapest Day and Time
Generally, during weekdays airlines drop their price and increase during the weekends and holidays. If your travel date is flexible, book cheap flights to Thailand when the price is cheaper.
FAQs
Which airlines offer direct flights to Thailand?

Bangkok Airways, Thai Airways, Thai AirAsia, AirAsia, Singapore Airlines, Cathay Pacific, Air India, Malaysia Airlines, etc. are some of the most popular airlines, operating direct / non-stop flights to Thailand.

Does Thailand have any airports?

Thailand has 39 airports, out of which, ten are international.

Which is the largest airport in Thailand?

Suvarnabhumi International Airports is the largest airport in Thailand.

What is the main airline out of Thailand?

Bangkok Airways, Thai Airways, Thai AirAsia, AirAsia, Singapore Airlines, Air India, Malaysia Airlines, etc. are the main and popular airlines out of Thailand.

When is the best time to book a flight to Thailand?

Booking a flight at least two weeks prior to your departure helps you get good deals on flight tickets.

Can I fly to Thailand now?

Thailand is a popular tourist destination and can be visited any time of the year.

What is Thailand's currency?

Thai Baht ฿ is the official currency of Thailand.

What is the official language of Thailand?

Thai is the official language of Thailand.

Why is Thailand famous?

Thailand is a popular tourist destination in the world that needs no introduction. It is mainly known for islands, limestone cliffs, golden beaches, high-octane nightlife, and lip-smacking street food items.

How much are return flights to Thailand?

As per hour research, the average airfare for a return flight to Thailand is ฿ 5,215. The airfare changes frequently and hence keep a track of it by applying filters.
Popular Destinations In Thailand
Cheap Flights to Phitsanulok
Cheap Flights to Hat Yai
Cheap Flights to Khon Kaen
Cheap Flights to Koh Samui
Flights To Other Countries
Nearest Airports In Thailand
Suvarnabhumi Airport – BKK
Phuket International Airport – HKT
Krabi International Airport – KBV
Chiang Mai International Airport – CNX