Book Cheap Flights- Save Huge
About Jerez
Jerez de la Frontera or Jerez, is a city in Spain, known for its rich culture, plenty of attractions, vibrant nightlife, and warm hospitality. Often overlooked by tourists for more famous Spanish destinations, Jerez receives less crowd. However, if you give this old town a chance, you get to see picturesque views and sip some of the world's finest sherry wines. If you want to explore off-beat destinations, book flights to Jerez.
Best Time to Book Flights to Jerez
The climate of Jerez can be defined as Mediterranean. In Jerez, summers are hot, arid, short, and mostly clear and winters are cold, windy, wet, and partly cloudy. July and August are the hottest months and should be avoided. You can plan your trip either in late spring or early fall for pleasant weather and you can also get good deals on flight fares and accommodation.
Top Places to Visit in Jerez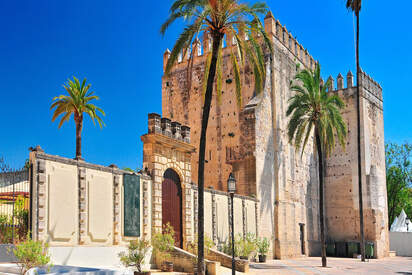 Alcaz
Alcazar is a former Moorish Alcazar, dating back to the 11th and 12th century. It was Moor's chief defense against the Christian invaders. There is also a well-protected Arabic bath, mosque, defensive walls and towers.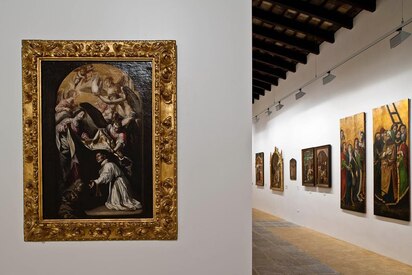 Bodegas Tradicion
Bodegas Tradicion was founded in 1998 by the descendants of one of the city's Sherry dynasties. It also houses one of Spain's private art collections and works by Goya and Velazquez.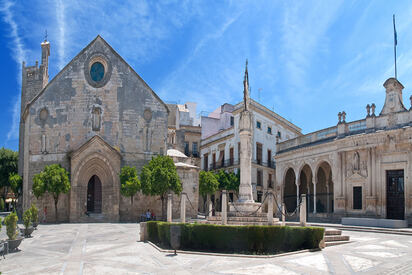 Plaza de la Asunción
It is one of the city's most beautiful places and home to two most beautiful buildings- the 15th century Iglesia Dionisio and a former town hall building that dates back to 1575.
Popular Flight Routes to Jerez
| | | | |
| --- | --- | --- | --- |
| Departing | Destination | Duration | Best Price |
| Vienna | Jerez | 05h:50m | € 87 |
| Zurich | Jerez | 04h:40m | € 77 |
| Madrid | Jerez | 01h:10m | € 42 |
| Barcelona | Jerez | 01h:45m | € 34 |
| Brussels | Jerez | 05h:45m | € 77 |
| Munich | Jerez | 05h:25m | € 84 |
Popular Airports in Jerez
Jerez Airport (XRY) serves Cadiz and Jerez de la Frontera. Most visitors to the airport arrive from Germany and the UK. As per statistics, the airport receives over 1,046,251 passengers.
When Is The Best Time to Book Flights to Jerez?
It is best to avoid the high peak season when planning a trip to Jerez. During peak tourist season that is in winter, airlines and hotels increase their prices. Since summers can be extremely hot here, it is best to avoid the season. Either plan your trip during the shoulder season or winter season.Book at least three to four weeks prior your trip to avail cheap flights to Jerez.
Which is The Cheapest Day to Fly to Jerez?
Mondays and Tuesdays are the best days to get cheap flights to Jerez. Book flights that depart on these days to avail affordable airfare. You can set an alarm to track when the airfare gets dropped.
Which Time of The Day is The Cheapest to Book Flights to Jerez?
Evening flights are comparatively cheaper. Try to book a flight to Jerez that departs at this time of the day to get good deals. Set a price alert to track when the price drops.
Top Tips to Get Cheap Flights to Jerez
Round Trip Tickets
Typically, round trip tickets are more affordable than one-way flight tickets. If you have the return date planned, it is advisable to book a round trip ticket and save up to 12%.
Off Season
Jerez can be enjoyed without the usual tourist crowds if you plan your trip during the shoulder season. You can avoid the rush caused by tourists, and it's also a chance to snag some fantastic deals on flights and accommodations.
Set Price Alert
Airlines frequently increase and decrease their price. To get an inexpensive flight ticket that will save some extra bucks, set a price alert.
Identify the Cheapest Day and Time
Generally, during weekdays airlines drop their price and increase during the weekends and holidays. If your travel date is flexible, book when the price is cheaper.
FAQs
Which airlines offer direct flights to Jerez?

Several major airlines like Vueling.com, Eurowings, Iberia, Ryanair, Condor, Luxair, Edelweiss Air, etc. offer regular flights to Jerez.

What is the cheapest time of year to fly to Jerez, Jerez?

As per our research, the months between March and April and September and October are considered the cheapest to fly to Jerez, Jerez.

When is the cheapest day to fly to Jerez?

Search for flights departing on Mondays and Tuesdays to get cheap flights to Jerez.

Is it safe to fly to Jerez now?

It is advisable to reconsider your visit to Jerez due to acts of violence, terrorism, and civil unrest.

How many passengers travel to Jerez International Airport?

Jerez International Airport receives more than 14,711,500 international and domestic passengers.

Are there any direct flights to Jerez from UK?

Ryanair offers nonstop flights between Jerez and London, the UK.

What airport do you fly to for Jerez?

Jerez Airport (XRY) is the major airport that serves Jerez de la Frontera.

How to get discounts on flights?

To avail discounts on airfare, you can either book two to four weeks prior to your scheduled departure. You can also find good deals on Lowestflightfares.com.

Which language is spoken in Jerez?

Spanish is widely spoken in Jerez.