Book Cheap Flights- Save Huge
About Liverpool
Liverpool is a maritime city in England. During the 18th and 20th century, it was a key trade and migration port. However, today, it is known for The Beatles and Liverpool Football club. For tourists booking flights to Liverpool to explore its many iconic sites, the city boasts several historical buildings, museums, art galleries, and recreational facilities.
Best Time to Book Flights to Liverpool
Liverpool features a temperate maritime climate. Summers in the city are relatively mild, winters are cool, and occasional rainfall balances the temperature. If you are planning a vacation in Liverpool, plan your trip during late Spring and summer. However, to avoid tourist rush and high flight fares and high accommodation rates, visit the city in early autumn.
Top Places to Visit in Liverpool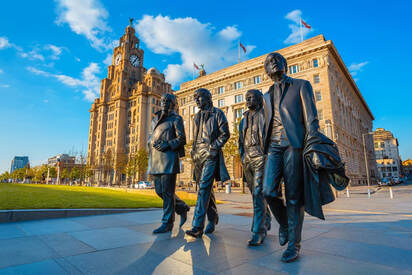 The Beatles
Liverpool is the birthplace of the iconic rock band The Beatles. If you are a fan of the band, you can't afford to miss visiting the museum dedicated to them. It houses one of the largest Beatles collections, featuring more than thousand authentic items across three floors.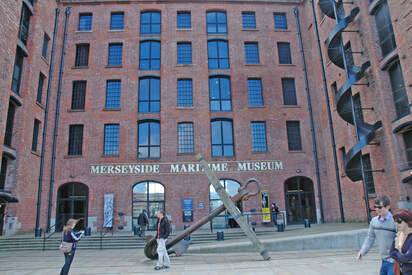 Merseyside Maritime Museum
Visit this historic site, which witnessed thousands of people leaving the country for a better future in North America between 1830 and 1930. The museum houses an impressive collection of artifacts dating back to the 13th century. The museum has model ships, historic vessels, and organizes workshops.
The Walker Art Gallery
Art Aficionados visit this place to admire its vast collection of works by Italian, Flemish, and French masters from the 14th century to the contemporary time. It has masterpieces by Rubens, Rodin, and Rembrandt.
Popular Flight Routes to Liverpool
| | | | |
| --- | --- | --- | --- |
| Departing | Destination | Duration | Best Price |
| London | Liverpool | 03h:40m | £ 61 |
| Dublin | Liverpool | 01h:00m | £ 13 |
| Amsterdam | Liverpool | 01h:25m | £ 46 |
| Madrid | Liverpool | 05h:00m | £ 64 |
| Frankfurt | Liverpool | 01h:45m | £ 89 |
| Paris | Liverpool | 01h:30m | £ 78 |
Popular Airports in Liverpool
Liverpool John Lennon Airport (LPL) is a primary airport that serves Liverpool City Region, North West England, and North Wales. It is a focus city for easyjet, Jet2.com, and Ryanair. As per 2022 statistics, the airport has received 3,490,844 annual passengers and managed 26,766 aircraft movements.
When Is The Best Time to Book Flights to Liverpool?
It is best to avoid the high peak season when planning a trip to Liverpool. During peak tourist season, airlines and hotels increase their prices. Visit during early autumn, when there is no tourist rush and the prices eventually decrease, making it affordable. You can easily book cheap flights to Liverpool.
Which is The Cheapest Day to Fly to Liverpool?
As per our research, Mondays are the best days to get cheap flights to Liverpool. If you are planning to visit during festival season or on holidays, book flights in advance.
Which Time of The Day is The Cheapest to Book Flights to Liverpool?
Evening flights are comparatively cheaper. Try to book a flight to Liverpool that departs at this time of the day to get good deals. Set a price alert to track when the price drops.
Top Tips to Get Cheap Flights to Liverpool
Round Trip Tickets
Typically, round trip tickets are more affordable than one-way flight tickets. If you have the return date planned, it is advisable to book a round trip ticket and save up to 16%.
Off Season
Liverpool can be enjoyed without the usual tourist crowds if you plan your trip during the shoulder season. You can avoid the rush caused by tourists, and it's also a chance to snag some fantastic deals on flights and accommodations.
Set Price Alert
Airlines frequently increase and decrease their price. To get an inexpensive flight ticket that will save some extra bucks, set a price alert.
Identify the Cheapest Day and Time
Generally, during weekdays airlines drop their price and increase during the weekends and holidays. If your travel date is flexible, book when the price is cheaper.
FAQs
Which airlines fly to Liverpool?

Several major airlines like Aer Lingus, easyjet, Jet2.com, Lufthansa, Ryanair, British Airways, etc. offer regular flights to Liverpool.

What month is the cheapest to fly to Liverpool?

As per our research, October is considered the cheapest month to fly to Liverpool.

When is the cheapest day to fly to Liverpool?

Search for flights departing on Mondays to get cheap flights to Liverpool.

How many destinations do Liverpool Airport fly to?

Several airlines connect Liverpool Airport to 70 cities across 28 countries.

What is Liverpool famous for?

Liverpool is England's only UNESCO city of Music. It is home to the popular rock band The Beatles, and home city of Liverpool Football club.

Which is the best airport to fly into Liverpool?

Liverpool John Lennon Airport (LPL) is a major international airport in Liverpool.

How to get discounts on flights?

To avail discounts on airfare, you can either book two to four weeks prior to your scheduled departure. You can also find good deals on Lowestflightfares.com.

Which language is spoken in Liverpool?

English is widely spoken in Liverpool.
Cheap Flights To Liverpool
Cheap Flights from Seattle to Liverpool
Cheap Flights from Philadelphia to Liverpool
Cheap Flights from Tampa to Liverpool
Cheap Flights from Boston To Liverpool
Cheap Flights from San Francisco to Liverpool
Cheap Flights from Fort Lauderdale to Liverpool
Cheap Flights From Liverpool
Cheap Flights from Liverpool to Cancun
Cheap Flights from Liverpool to Boston
Cheap Flights from Liverpool to Orlando
Cheap Flights from Liverpool to Aruba
Cheap Flights from Liverpool to Portland
Cheap Flights from Liverpool to Tampa
Airports Near Liverpool
Liverpool John Lennon Airport – LPL