Book Cheap Flights- Save Huge
About Scotland
Scotland is a constituent country of the United Kingdom. It is most northerly of the four parts of the UK, occupying about one-third of the island of Great Britain. In addition, it is famous for its whisky distilleries, bagpipes, lively music culture, and beautiful lochs across the country. From stunning landscape and architecture to hearty food and legendary golf courses, Scotland is a popular destination for travelers from all over the world. Hence, plan a trip and book your flights to Scotland soon, and have a fantastic vacationing experience here.
Best Time to Visit Scotland
The best time to visit Scotland is around October when the flight prices drop by an average of 4%. In contrast, September is the peak season when the flight prices increase at an average of 9%.
Top Places to Visit in Scotland
After taking flights to Scotland, take a stroll across the place and check out these incredible places to admire in this region.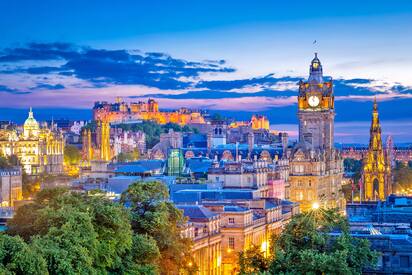 Edinburgh
The country's capital is home to well-preserved architecture from a number of different periods of history, including medieval times to the more recent New Town area. It is also an important cultural destination, hosting numerous popular events and festivals throughout the year.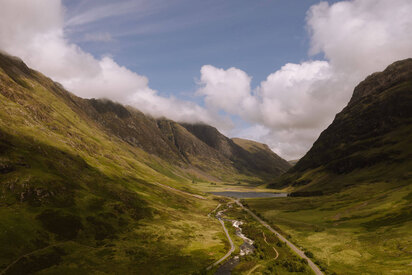 Scottish Highlands
Few travel destinations have captured the imagination to the extent of the magnificent Scottish Highlands. Stretching from the attractive garden city of Inverness on the country's rugged east coast all the way to John O'Groats in the north, this outstanding natural haven is where you'll find some of the most romantic vistas anywhere.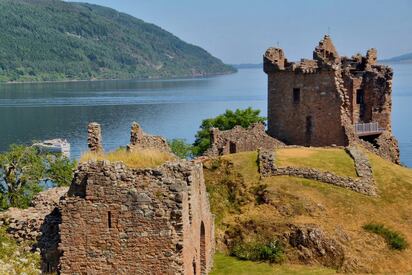 Loch Ness
Shrouded in myth and legend, Scotland's beautiful Loch Ness remains one of the country's top places to visit. Expect to spend at least a day exploring the old castle and other Loch Ness attractions. Other fun things to do include a boat cruise along the loch and, if there's time, the Caledonian Canal, which connects Scotland's east and west coasts.
Popular Flight Routes to Scotland
| | | | |
| --- | --- | --- | --- |
| Departing | Destination | Duration | Best Price |
| Athens | Scotland | 3h 55m | USD 53 |
| Dublin | Scotland | 1h 35m | USD 25 |
| Mexico City | Scotland | 10h 10m | USD 677 |
| Paris | Scotland | 1h 10m | USD 51 |
| Tokyo | Scotland | 21h 55m | USD 700 |
| Bogota | Scotland | 10h 10m | USD 451 |
| Vancouver | Scotland | 11h 15m | USD 221 |
| Los Angeles | Scotland | 16h 35m | USD 324 |
| Boston | Scotland | 6h 30m | USD 383 |
| Melbourne | Scotland | 25h 20m | USD 539 |
Popular Airports in Scotland
| | | | |
| --- | --- | --- | --- |
| Airport Name | IATA Code | City | Annual Passengers |
| Edinburgh Airport | EDI | Edinburgh | 14,747,830 |
| Glasgow Airport | GLA | Glasgow | 8,843,214 |
| Aberdeen Airport | ABZ | Aberdeen | 2,912,883 |
| Inverness Airport | INV | Inverness | 946,391 |
When is the best time to book cheap flights to Scotland?
To avail the cheap flights to Scotland, consider booking tickets more than two weeks before departure to save up to USD 300. During the holiday season, airlines increase their prices, so either you can plan your trip during the off-season or book a flight well before the departure date.
Which Day is the Cheapest Day to Fly to Scotland?
If your journey dates are flexible, consider taking flights on Wednesday and you can save USD 110. In contrast, Sunday is the most expensive day to fly to Scotland.
What Time of the Day is the Cheapest to Fly to Scotland?
As per our research, afternoon is considered the cheapest time of the day to book cheap flights to Scotland (EDI).
Top Tips to Finding Cheap Flights to the Scotland
Round Trip Tickets
If you know the date of your return from Scotland (EDI), it is better to book a round-trip flight.
Off Season
Travel during the off-season when the airlines decrease their price.
Set Price Alert
Airlines frequently increase and decrease their price. To get an inexpensive flight ticket that will save you some extra bucks, set a price alert.
Identify the Cheapest Day and Time
Generally, during weekdays airlines drop their price and increase during the weekends and holidays. If your travel date is flexible, book when the price is cheaper.
FAQs
Which airlines offer direct flights to Scotland ?

Several airlines offer nonstop flights to Scotland, including British Airways, Virgin Atlantic, and American Airlines.

Which is the best airline to fly to Scotland  (EDI)?

British Airways offers most flights to Scotland (EDI) and is the best airline to fly to this state.

How many airlines fly to Scotland  (EDI)?

There are 94 airlines flying to Scotland (EDI) from 256 airports worldwide.

When is the best time to book cheap flights to Scotland ?

If you are sure about your intended travel date, book a cheap air flight to Scotland two weeks prior to your journey.

Which day is the cheapest day to take flights to Scotland ?

As per our research, Wednesday is the cheapest day of the week to take cheap flights to Scotland (EDI).

What time of the day is the cheapest time to Fly to Scotland ?

Afternoon is considered to be the best time to get cheap flight tickets to Scotland (EDI).

What is the name of Scotland's airport?

The major airport of Scotland is Edinburgh Airport (EDI).

How lowestflightfares.com helps you get cheap flights to Scotland?

lowestflightfares.com shows deals across 100+airlines so that you can have access to a wide array of flights from which you can book the one that best suits your requirement.

How can you save money on flights with lowestflightfares.com?

We aggregate real-time information of hundreds of flights and offer you a wide range of options available. We show you all flight options available on the route, from where you can choose the cheapest one. If you are not happy with the search results, you can set a 'Price Alert,' which will inform you whenever the prices decrease.

Who may enter Scotland ?

Those who are fully vaccinated with WHO-certified vaccines and have valid travel documents can enter Scotland.
Cheap Flights To Scotland
Cheap Flights from Seattle to Scotland
Cheap Flights from Philadelphia to Scotland
Cheap Flights from Tampa to Scotland
Cheap Flights from Boston To Scotland
Cheap Flights from San Francisco to Scotland
Cheap Flights from Fort Lauderdale to Scotland
Cheap Flights From Scotland
Cheap Flights from Scotland to Cancun
Cheap Flights from Scotland to Boston
Cheap Flights from Scotland to Orlando
Cheap Flights from Scotland to Aruba
Cheap Flights from Scotland to Portland
Cheap Flights from Scotland to Tampa
Airports Near Scotland
Edinburgh Airport – EDI
Glasgow Airport – GLA
Aberdeen Airport – ABZ
Inverness Airport – INV