Book Cheap Flights- Save Huge
About Destin
Destin is a city located in Okaloosa County, Florida. It is a principal city of the Crestview–Fort Walton Beach–Destin, Florida, metropolitan area. Located on Florida's Emerald Coast, Destin is known for its white beaches and emerald green waters. Originating as a small fishing village, it is now a popular tourist destination. The city styles itself "The World's Luckiest Fishing Village", and claims to have the largest fishing vessel fleet in the state of Florida. Hence, when you book your flights to Destin, make sure to spend ample time exploring the pristine beaches and other attractions of this town.
Best Time to Visit Destin
The best time to visit Destin, FL is around February when the flight prices drop by an average of 12%. In contrast, November is the peak season when the flight prices increase at an average of 30%.
Top Places to Visit in Destin
After taking flights to Destin, FL take a stroll across the place and check out these incredible places to admire in this region.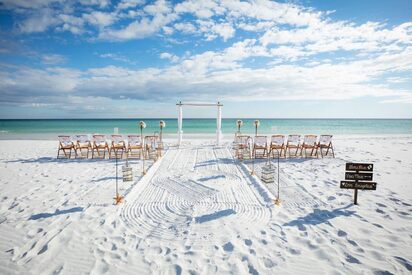 Henderson Beach State Park
For many people, the city of Destin equates exclusively to beaches. The reason for this is likely the fact that it is surrounded by amazing beaches stretching for miles across the east and west region of the city. The water here is emerald green and clear. It's so enticing, you can't help but dip your toes and rest of your body into its warm embrace.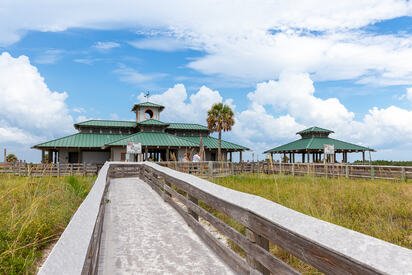 John Beasley Park
The Florida Panhandle is lucky to have an array of excellent beach parks operated by local counties, and John Beasley Park with its snow-white sands is no exception. Parking at the beaches around Destin can be challenging at times, but at this place, you'll likely have a good chance of securing a spot, owing to its 208 spaces.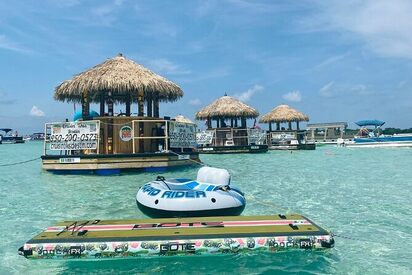 Crab Island
Crab Island is one of Destin's top attractions that doesn't actually exist as a typical land mass, and hasn't for many years. What Crab Island actually consists of is a giant sandbar just south of the main bridge in and out of Destin. Further, it's a hotspot destination for boaters and a shallow water paradise.
Popular Flight Routes to Destin
| | | | |
| --- | --- | --- | --- |
| Departing | Destination | Duration | Best Price |
| Baltimore | Destin | 3h 53m | USD 117 |
| Cincinnati | Destin | 4h 15m | USD 106 |
| Boston | Destin | 4h 52m | USD 141 |
| Nashville | Destin | 2h 50m | USD 79 |
| Minneapolis | Destin | 5h 02m | USD 141 |
| Lexington | Destin | 3h 17m | USD 239 |
| Dallas | Destin | 1h 52m | USD 103 |
| Newark | Destin | 4h 33m | USD 278 |
| Las Vegas | Destin | 5h 55m | USD 156 |
Popular Airports in Destin
The popular airport for taking flights to Destin, FL is Destin-Fort Walton Beach Airport (VPS), which is the only major public airport in this region. In addition, the airport is facilitated by 5 airlines from 31 airports around the world and witnesses 35 flights (arriving and departing) on a daily basis. The IATA code for this airport is VPS and it majorly serves Destin. Furthermore, the annual passengers flying to and from this airport are- 1,529,644.
When is the best time to book cheap flights to Destin? 
To avail the cheap flights to Destin, consider booking tickets more than two weeks before departure to save upto USD 300. During the holiday season, airlines increase their prices, so either you can plan your trip during the off-season or book a flight well before the departure date.
Which Day is the Cheapest Day to Fly to Destin?
If your journey dates are flexible, consider taking flights on Thursday and you can save USD 167. In contrast, Monday is the most expensive day to fly to Destin, FL. 
What Time of the Day is the Cheapest to Fly to Destin?
As per our research, Morning is considered the cheapest time of the day to book cheap flights to Destin, FL (VPS).
Top Tips to Finding Cheap Flights to the Destin, FL
Round Trip Tickets
If you know the date of your return from Destin, FL (VPS), it is better to book a round-trip flight.
Off Season
Travel during the off-season when the airlines decrease their price.
Set Price Alert
Airlines frequently increase and decrease their price. To get an inexpensive flight ticket that will save you some extra bucks, set a price alert.
Identify the Cheapest Day and Time
Generally, during weekdays airlines drop their price and increase during the weekends and holidays. If your travel date is flexible, book when the price is cheaper.
FAQs
Which airlines offer direct flights to Destin?

The direct flights to Destin, FL are offered by American, Allegiant, Southwest, Frontier, Spirit Airlines, etc.

Which is the best airline to fly to Destin?

American Airlines offers most flights to Destin, FL (VPS) and is the best airline to fly to this city.

How many airlines fly to Destin, FL?

There are 5 airlines flying to Destin, FL (VPS) from 31 airports worldwide.

When is the best time to book cheap flights to Destin, FL?

If you are sure about your intended travel date, book a cheap air flight to Destin, FL  two weeks prior to your journey.

Which day is the cheapest day to take flights to Destin, FL?

As per our research, Thursday is the cheapest day of the week to take cheap flights to Destin, FL (VPS).

What time of the day is the cheapest time to Fly to Destin?

Morning is considered to be the best time to get cheap flight tickets to Destin (VPS).

What is the name of Destin airport?

The name of Destin (VPS) airport is Destin-Fort Walton Beach Airport.

How lowestflightfares.com helps you get cheap flights to Destin, FL?

lowestflightfares.com shows deals across 100+airlines so that you can have access to a wide array of flights from which you can book the one that best suits your requirement.

How can you save money on flights with lowestflightfares.com?

We aggregate real-time information of hundreds of flights and offer you a wide range of options available. We show you all flight options available on the route, from where you can choose the cheapest one. If you are not happy with the search results, you can set a 'Price Alert,' which will inform you whenever the prices decrease.

 Who may enter Destin, FL?

Those who are fully vaccinated with WHO-certified vaccines and have valid travel documents can enter Destin, FL.
Cheap Flights To Destin
Cheap Flights from Houston to Destin
Cheap Flights from Philadelphia to Destin
Cheap Flights from Tampa to Destin
Cheap Flights from Boston to Destin
Cheap Flights from San Francisco to Destin
Cheap Flights from Fort Lauderdale to Destin
Cheap Flights From Destin
Cheap Flights from Destin  to Cancun
Cheap Flights from Destin  to Boston
Cheap Flights from Destin  to Orlando
Cheap Flights from Destin  to Aruba
Cheap Flights from Destin  to Portland
Cheap Flights from Destin  to Tampa
Airports Near Destin
Destin-Fort Walton Beach Airport – VPS