Book Cheap Flights- Save Huge
About Buffalo
Buffalo, the second-largest city of New York in the United States, is mainly known for its close proximity to Niagara Falls. It lies at the southern end of Lake Erie and shares its border with Ontario, Canada. From historical buildings, including Art-Deco style City Hall to Buffalo zoo, and Delaware Park, there's certainly no dearth of attractions in the city. However, tourists mainly book flights to Buffalo to visit the world-famous Niagara Falls.
Best Time to Book Flights to Buffalo
Buffalo has a humid continental climate, with warm and aptly cloudy summers and freezing, snowy, windy, and mostly cloudy winters. Summer is the most crowded season of the year, thanks to its warm weather. However, during the high peak season, flight fares and accommodation and lodging gets expensive. Book your flight during off peak season to get good deals.
Places to Visit in Buffalo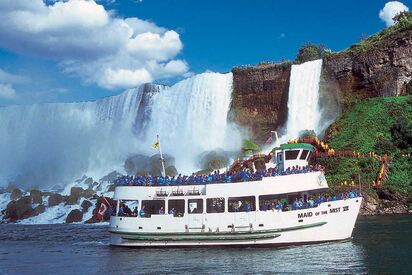 Niagara Falls
No trip to Buffalo is complete with a trip to Niagara Falls. The unstoppable force of the gushing water is a sight to behold. Visitors hike the miles-long trail to admire the scenic landscapes of the falls. To get up close, take a boat ride on Maind of the Mist.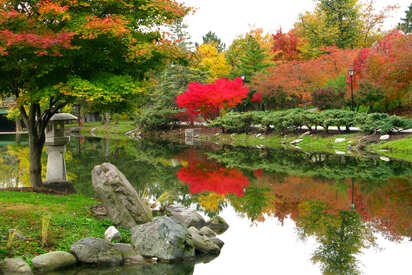 Delaware Park & The Buffalo Zoo
These two are an incredible asset of the city. With wide open green spaces, well-paved jogging trails, and tennis court and golf course, the park is a great place for recreation. One of its major highlights is the Buffalo Zoo, which is home to polar bears, Indian rhinos, gorillas, and several other exotic wild animals.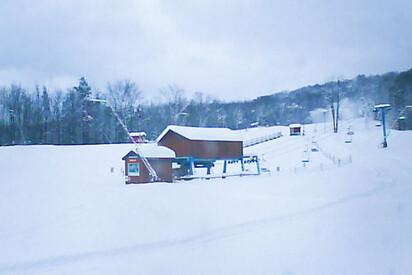 Ski Resorts
If you are visiting the city during a snowy winter, find one of the best ski resorts. There are a few of them that offer the ultimate thrill to adventure-seekers. Just take a short drive to one of Buffalo's small towns, Ellicottville, where you can enjoy heart-thumping snowboarding, skiing, etc.
Popular Flight Routes to Buffalo
| | | | |
| --- | --- | --- | --- |
| Origin | Destination | Duration | Best Price |
| Charlotte | Buffalo | 01h:40m | US$ 97 |
| Chicago | Buffalo | 01h:30m | US$ 162 |
| Detroit | Buffalo | 01h:00m | US$ 114 |
| Atlanta | Buffalo | 02h:00m | US$ 194 |
| Boston | Buffalo | 01h:30m | US$ 114 |
Popular Airports in Buffalo
The nearest major airport that serves Buffalo is Buffalo Niagara International Airport (BUF). At least eight airlines offer scheduled flights to 25 destinations from Buffalo. As per 2021 statistics, the airport handles 2,896,000 passengers annually.
When Is the Best Time to Book Cheap Flight to Buffalo?
Regardless of when you are visiting, book flights to Buffalo at least one or two months prior to your visit. Booking in advance helps you get affordable flight fares.
Which is The Cheapest Day to Fly to Buffalo?
On weekdays, flight fares tend to get cheaper. So, search for flights departing on Wednesdays and Thursdays to get good deals. Avoid weekends and holidays, when due to high demand, airlines increase airfare.
Which Time of The Day is The Cheapest to Book Flights to Buffalo?
The best time of the day to take a flight would be early in the morning or late afternoon, only if you want to avail cheap flights to Buffalo.
Top Tips to Get Cheap Flights to Buffalo
Round Trip Tickets
If you know your return date, then book return flight tickets, which comes comparatively cheaper. On an average, flight prices get cheaper by 7 to 11% when you book a return flight.
Off Season
Travel during the off-season or shoulder season, when the airlines decrease their price.
Set Price Alert
The airfare constantly fluctuates. To get an inexpensive flight ticket that will save some extra bucks, set a price alert.
Identify the Cheapest Day and Time
Generally, during weekdays airlines drop their price and increase during the weekends and holidays. If your travel date is flexible, book flights to Buffalo when the price is cheaper.
FAQs
Which airlines offer direct flights to Buffalo?

American Airlines, JetBlue, United, Delta, American Eagle, Frontier, Southwest, Sun Country Airlines, etc. are some of the most popular airlines, operating direct/non-stop flights to Buffalo.

Does Buffalo have any international flights?

Buffalo Niagara International Airport (BUF) is the primary airport that serves Buffalo and Niagara Falls.

What is the main airline out of Buffalo?

There are several airlines available that provide scheduled flights to / from Buffalo.

How can I find the best flight deal to Buffalo?

At Lowestflightfares.com, you get to search and compare prices from all major airlines offering flights to and from Buffalo. Set a price alert and we will track the best price for you.

How many flights fly to Buffalo?

At present, there are 25 domestic flights flying to / from Buffalo.

Which language is spoken in Buffalo?

English is widely spoken in Buffalo.

What is the currency used in Buffalo?

The official currency accepted in Buffalo is USD.

What is Buffalo famous for?

Buffalo is mainly visited by tourists for its close proximity to Niagara Falls. Apart from the falls, this city of trees has several green spaces, parks, a zoo, and beautiful buildings.

Which airlines have a hub in Buffalo?

Buffalo Niagara International Airport is a hub for Delta, Southwest, and JetBlue.
Cheap Flights To Buffalo
Cheap Flights from Houston to Buffalo
Cheap Flights from Bogota to Buffalo
Cheap Flights from Chicago to Buffalo
Cheap Flights from New York to Buffalo
Cheap Flights from Virginia to Buffalo
Cheap Flights from Denver to Buffalo
Cheap Flights From Buffalo
Cheap Flights from Buffalo to Bogota
Cheap Flights from Buffalo to Las Vegas
Airports Near Buffalo
Buffalo Niagara International Airport – BUF