Book Cheap Flights- Save Huge
About Missouri
Missouri is a state in the Midwestern region of the United States. The Missouri River, after which the state is named, flows through the center into the Mississippi River, which makes up the eastern border. It is well known for its barbecue meals, strong agriculture industry, and iconic landmarks such as the Gateway Arch. The state is also home to many beautiful state parks, which are perfect for hiking, camping, and picnicking. Hence, plan a trip, take flights to Missouri, and spend a considerable time exploring the state.
Best Time to Visit Missouri
The best time to visit Missouri is around February when the flight prices drop by an average of 3%. In contrast, September is the peak season when the flight prices increase at an average of 12%.
Top Places to Visit in Missouri
After taking flights to Missouri, take a stroll across the place and check out these incredible places to admire in this region.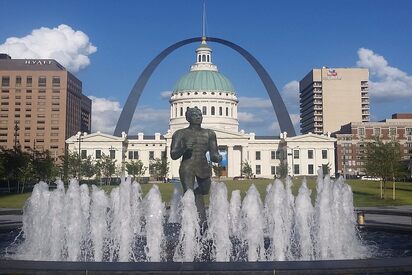 Gateway Arch, St. Louis
There is no doubt in the fact that St. Louis is the largest metropolitan area in the state that is full of adventure activities and tourist attractions. It is also home to the world's tallest artificial monument called Gateway Arch. In this metropolitan section is an open mall that leads to the courthouse, which faces the gateway arch.
St. Joseph, Buchanan County
St Joseph is a historical city and will let you learn about American history in a much more interesting way than by reading textbooks. You can visualize the sight where the pony expresses begun and the house where Jesse James once resided.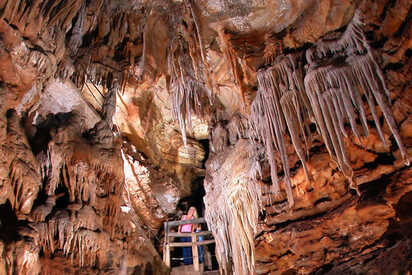 Talking Rock Cavern
Located at a distance of about 15 minutes from Branson is this ancient cavern, founded in the late 1800s. Tourists go down a series of 265 steps to reach the foot of the cave. The caves have formed amazing crystalline formations and are well lit and maintained.
Popular Flight Routes to Missouri
| | | | |
| --- | --- | --- | --- |
| Departing | Destination | Duration | Best Price |
| Toronto | Missouri | 2h 03m | USD 209 |
| Seattle | Missouri | 3h 52m | USD 147 |
| Boston | Missouri | 3h 05m | USD 132 |
| Burlington | Missouri | 4h 51m | USD 269 |
| Detroit | Missouri | 1h 36m | USD 96 |
| Frankfurt | Missouri | 14h 13m | USD 505 |
| Atlanta | Missouri | 1h 34m | USD 103 |
| Denver | Missouri | 1h 58m | USD 123 |
Popular Airports in Missouri
| | | | |
| --- | --- | --- | --- |
| Airport Name | IATA Code | City | Annual Passengers |
| St. Louis Lambert International Airport | STL | St. Louis | 7,631,953 |
| Kansas City International Airport | MCI | Kansas City | 5,790,847 |
| Springfield-Branson National Airport | SGF | Springfield | 523,108 |
When is the best time to book cheap flights to Missouri?
To avail the cheap flights to Missouri, consider booking tickets more than two weeks before departure to save upto USD 300. During the holiday season, airlines increase their prices, so either you can plan your trip during the off-season or book a flight well before the departure date.
Which Day is the Cheapest Day to Fly to Missouri?
If your journey dates are flexible, consider taking flights on Saturday and you can save USD 200. In contrast, Sunday is the most expensive day to fly to Missouri. 
What Time of the Day is the Cheapest to Fly to Missouri?
As per our research, evening is considered the cheapest time of the day to book cheap flights to Missouri (STL).
Top Tips to Finding Cheap Flights to the Missouri
Round Trip Tickets
If you know the date of your return from Missouri (STL), it is better to book a round-trip flight.
Off Season
Travel during the off-season when the airlines decrease their price.
Set Price Alert
Airlines frequently increase and decrease their price. To get an inexpensive flight ticket that will save you some extra bucks, set a price alert.
Identify the Cheapest Day and Time
Generally, during weekdays airlines drop their price and increase during the weekends and holidays. If your travel date is flexible, book when the price is cheaper.
FAQs
Which airlines offer direct flights to Missouri ?

Several airlines offer nonstop flights to Missouri, including Spirit, American, Delta, Frontier, Southwest and United Airlines. 


Which is the best airline to fly to Missouri  (STL)?

Southwest Airlines offers most flights to Missouri (STL) and is the best airline to fly to this state.


How many airlines fly to Missouri  (STL)?

There are 14 airlines flying to Missouri (STL) from 71 airports worldwide.


When is the best time to book cheap flights to Missouri ?

If you are sure about your intended travel date, book a cheap air flight to Missouri  two weeks prior to your journey.


Which day is the cheapest day to take flights to Missouri ?

As per our research, Saturday is the cheapest day of the week to take cheap flights to Missouri (STL).

What time of the day is the cheapest time to Fly to Missouri ?

Evening is considered to be the best time to get cheap flight tickets to Missouri (STL).

What is the name of Missouri  airport?

The name of Missouri (STL) airport is St. Louis Lambert International Airport. 

How lowestflightfares.com helps you get cheap flights to Missouri?

lowestflightfares.com shows deals across 100+airlines so that you can have access to a wide array of flights from which you can book the one that best suits your requirement.

How can you save money on flights with lowestflightfares.com?

We aggregate real-time information of hundreds of flights and offer you a wide range of options available. We show you all flight options available on the route, from where you can choose the cheapest one. If you are not happy with the search results, you can set a 'Price Alert,' which will inform you whenever the prices decrease.

 Who may enter Missouri ?

Those who are fully vaccinated with WHO-certified vaccines and have valid travel documents can enter Missouri.
Top Flight Destinations in Missouri
Cheap Flights to Columbia
Cheap Flights to Springfield
Cheap Flights to Cape Girardeau
Cheap Flights to Joplin
Cheap Flights to Kirksville
Nearest Airports In Missouri
St. Louis Lambert International Airport – STL
Kansas City International Airport – MCI
Springfield-Branson National Airport – SGF