Book Cheap Flights- Save Huge
About Nashville
Nashville is the capital city of Tennessee and is located on the Cumberland River in the southeastern region. In addition, it's the primary center for the music industry and is also called the "music city." Hence, if you're a music admirer, then you should plan a visit here. Moreover, Nashville covers a humid subtropical climate with temperatures ranging from 4.2 °C in January to 27.1 °C in July. So, to avail cheap flights to Nashville, consider traveling around the fall season, when the weather is favorable enough to have a prominent vacationing experience.
Nashville Flights Details
Are you looking for cheap flights to Nashville? Then, here's a list of things you need to consider for an economical journey to this haven. Furthermore, choose the closest airport to the city, to avoid unnecessary delays. Nashville International Airport(BNA) is one of the largest international airports in Tennessee, serving Nashville, and is located in the southeastern region of the city. Moreover, the airport witnessed more than eight million passengers(domestic and international) in 2020.
Best Time to Visit Nashville
The best time to visit Nashville is around January when the flight prices drop by an average of 19%. In contrast, May to August is the peak season when the flight prices increase at an average of 16%.
Top Places to Visit in Nashville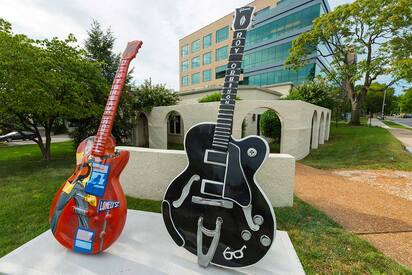 Music Square
Take a stroll to this beautiful place, also known as Music Row, where you can explore the history of the nation's music industry and tour around the Country Music Hall of Fame and Museum exhibiting certain musical artifacts and instruments.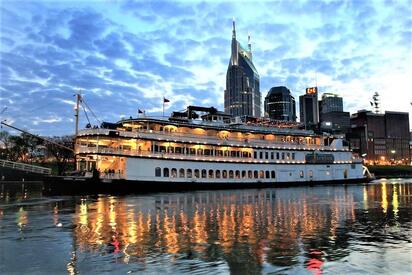 General Jackson Showboat
Take a cruise on this boat over the Cumberland River and observe Tennessee's stunning, dazzling city.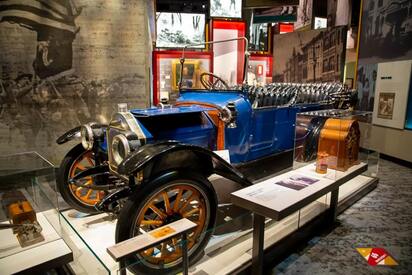 Tennessee State Museum
Visit the famous museum of Nashville(BNA), and discover more about the city's rich history and retained heritage.
Popular Flight Routes to Nashville
| | | | |
| --- | --- | --- | --- |
| Departing | Destination | Duration | Best Price |
| Denver | Nashville | 2h 34m | $168 |
| Fort Lauderdale | Nashville | 2h 21m | $76 |
| New York City | Nashville | 2h 14m | $84 |
| Cancun | Nashville | 5h 20m | $163 |
| Frankfurt | Nashville | 13h 02m | $762 |
| London | Nashville | 9h 05m | $1206 |
| Edmonton | Nashville | 3h 45m | $72 |
Popular Airports in Nashville
The popular airport in the city is Nashville International Airport which is the busiest airport in Tennessee. In addition, the airport is facilitated by 22 airlines from 94 airports around the world and witnesses 585 flights(arriving and departing) on a daily basis. The IATA code for this airport is BNA and it majorly serves Nashville city. Furthermore, the annual passengers flying to and from Nashville airport are- 8,284,570.
When is the best time to book cheap flights to Nashville?
To avail cheap flight tickets to Nashville, consider booking tickets more than two weeks before departure to save up to 300$. During the holiday season, airlines increase their prices, so either you can plan your trip during the off-season or book a flight well before the departure date.
Which Day is the Cheapest Day to Fly to Nashville?
If your journey dates are flexible, consider taking flights on Wednesday and you can save 57$. In contrast, Friday is the most expensive day to fly to Nashville.
What Time of the Day is the Cheapest to Fly to Nashville?
As per our research, the evening is considered the cheapest time of the day to book cheap flights to Nashville. Generally, the flight prices increase in the morning.
Top Tips to Finding Cheap Flights to the Nashville
Round Trip Tickets
If you know the date of your return from Nashville(BNA), it is better to book a round-trip flight.
Off-Season
Travel during the off-season when the airlines decrease their price.
Set Price Alert
Airlines frequently increase and decrease their price. To get an inexpensive flight ticket that will save you some extra bucks, set a price alert.
Identify the Cheapest Day and Time
Generally, during weekdays airlines drop their price and increase during the weekends and holidays. If your travel date is flexible, book when the price is cheaper.
FAQs
Which airlines offer cheap flights to Nashville?

Several airlines offer cheap flights to Nashville including American, Spirit, Southwest, Allegiant, Delta, Frontier, Jetblue, and United airlines. 

Which is the best airline to fly to Nashville (BNA)?

Southwest Airlines offers most flights to Nashville(BNA) and is the best airline to fly to this city.

How many airlines fly to Nashville (BNA)?

There are 22 airlines flying to Nashville (BNA) from 94 airports worldwide.

When is the best time to book cheap flights to Nashville?

If you are sure about your intended travel date, book a cheap air flight to Nashville two weeks prior to your journey.

Which day is the cheapest day to fly to Nashville?

As per our research, Wednesday is the cheapest day of the week to take cheap flights to Nashville.

What time of the day is the cheapest time to Fly to Nashville?

Evening is considered to be the best time to get cheap flight tickets to Nashville.

What is the name of Nashville airport?

The name of Nashville(BNA) airport is Nashville International Airport.

How lowestflightfares.com helps you get cheap flight tickets?

lowestflightfares.com shows deals across 100+airlines so that you can have access to a wide array of flights from which you can book the one that best suits your requirement.

How can you save money on flights with lowestflightfares.com?

We aggregate real-time information of hundreds of flights and offer you a wide range of options available. We show you all flight options available on the route, from where you can choose the cheapest one. If you are not happy with the search results, you can set a 'Price Alert,' which will inform you whenever the prices decrease.

Who may enter Nashville?

Those who are fully vaccinated with WHO-certified vaccines and have a negative covid-19 report, no older than three days can enter Nashville.
Cheap Flights To Nashville
Cheap Flights From Nashville
Airports Near Nashville
Nashville International Airport – BNA
Flights to Nearby Cities
Franklin Flights
Bowling Green Flights
Tullahoma Flights
Airlines Fly to Nashville
Contour Airlines Flights
Cape Air Flights
Flair Airlines Flights