Book Cheap Flights- Save Huge
About Vermont
Vermont is a renowned state in the northeastern United States, known for its forested natural beauty, majestic green mountains, and scenic hiking trails. Being an integral part of the New England region, it also houses more than a 100 wooden bridges of the 19th century, and is a major producer of maple syrup. In addition, the town has a humid continental climate with an annual average temperature of 6 °C. Hence, while booking your flights to Vermont, consider traveling around January to April when the weather conditions are most appropriate.
Best Time to Visit Vermont
The best time to visit Vermont is around January when the flight prices drop by an average of 3%. In contrast, July is the peak season when the flight prices increase at an average of 21%.
Top Places to Visit in Vermont
After taking flights to Vermont, take a stroll across the place and check out these incredible places to admire in this region.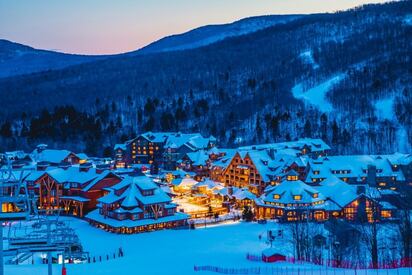 Stowe
With a covered bridge, white-spired church, weathered barns, and ski trails down the mountainside, Stowe is an ideal image of Vermont. Tucked at the foot of Mt. Mansfield and in the heart of the state's snow belt, it's also the town that personifies the glory days of Vermont's ski industry.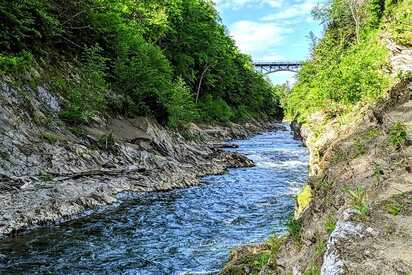 Quechee Gorge
It is Vermont's deepest gorge that was formed by glaciers about 13,000 years ago, and has continued to deepen by the constant action of the Ottauquechee River. Moreover, the best place to view the gorge is from the walkway along the arched iron bridge that carries Route 4 across the top.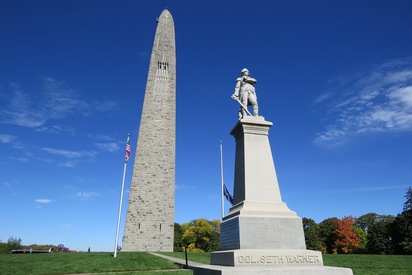 Bennington Battle Museum and Monument
This 306-foot-high obelisk, visible from miles around, commemorates the 1777 battle fought about five miles west of Bennington, which turned the tide against the British and made the final American victory possible. You can bypass the monument's 412 steps by taking an elevator to the top for stunning vistas.
Popular Flight Routes to Vermont
| | | | |
| --- | --- | --- | --- |
| Departing | Destination | Duration | Best Price |
| Charlotte | Vermont | 2h 11m | USD 297 |
| Chicago | Vermont | 4h 05m | USD 96 |
| Philadelphia | Vermont | 1h 27m | USD 262 |
| Atlanta | Vermont | 4h 05m | USD 138 |
| New York | Vermont | 1h 18m | USD 56 |
| Minneapolis | Vermont | 4h 50m | USD 200 |
| Denver | Vermont | 6h 50m | USD 102 |
| Newark | Vermont | 1h 25m | USD 107 |
Popular Airports in Vermont
| | | | |
| --- | --- | --- | --- |
| Airport Name | IATA Code | City | Annual Passengers |
| Burlington International Airport  | BTV | Burlington | 658,879 |
| Rutland–Southern Vermont Regional Airport | RUT | Rutland | 5,554 |
When is the best time to book cheap flights to Vermont?
To avail the cheap flights to Vermont, consider booking tickets more than two weeks before departure to save upto USD 300. During the holiday season, airlines increase their prices, so either you can plan your trip during the off-season or book a flight well before the departure date.
Which Day is the Cheapest Day to Fly to Vermont? 
If your journey dates are flexible, consider taking flights on Monday and you can save up to USD 50. In contrast, Thursday is the most expensive day to fly to Vermont. 
What Time of the Day is the Cheapest to Fly to Vermont? 
As per our research, evening is considered the cheapest time of the day to book cheap flights to Vermont (BTV).
Top Tips to Finding Cheap Flights to the Vermont
Round Trip Tickets
If you know the date of your return from Vermont (BTV), it is better to book a round-trip flight.
Off Season
Travel during the off-season when the airlines decrease their price.
Set Price Alert
Airlines frequently increase and decrease their price. To get an inexpensive flight ticket that will save you some extra bucks, set a price alert.
Identify the Cheapest Day and Time
Generally, during weekdays airlines drop their price and increase during the weekends and holidays. If your travel date is flexible, book when the price is cheaper.
FAQs
Which airlines offer direct flights to Vermont?

Several airlines offer nonstop flights to Vermont, including Spirit, American, Delta, Frontier, Southwest and United Airlines. 

Which is the best airline to fly to Vermont  (BTV)?

American Airlines offers most flights to Vermont (BTV) and is the best airline to fly to this state.

How many airlines fly to Vermont  (BTV)?

There are 6 airlines flying to Vermont (BTV) from 14 airports worldwide.

When is the best time to book cheap flights to Vermont?

If you are sure about your intended travel date, book a cheap air flight to Vermont  two weeks prior to your journey.

Which day is the cheapest day to take flights to Vermont?

As per our research, Monday is the cheapest day of the week to take cheap flights to Vermont (BTV).

What time of the day is the cheapest time to Fly to Vermont?

Evening is considered to be the best time to get cheap flight tickets to Vermont (BTV).

What is the name of Vermont  airport?

The name of Vermont (BTV) airport is Burlington International Airport. 

How lowestflightfares.com helps you get cheap flights to Vermont?

lowestflightfares.com shows deals across 100+airlines so that you can have access to a wide array of flights from which you can book the one that best suits your requirement.

How can you save money on flights with lowestflightfares.com?

We aggregate real-time information of hundreds of flights and offer you a wide range of options available. We show you all flight options available on the route, from where you can choose the cheapest one. If you are not happy with the search results, you can set a 'Price Alert,' which will inform you whenever the prices decrease.

 Who may enter Vermont?

Those who are fully vaccinated with WHO-certified vaccines and have valid travel documents can enter Vermont.
Top Flight Destinations in Vermont
Cheap Flights to Burlington
Cheap Flights to Rutland
Popular Airports in Vermont
Burlington International Airport – BTV
Rutland–Southern Vermont Regional Airport – RUT