Book Cheap Flights- Save Huge
About French Polynesia
It is an overseas collectivity of France and contains 121 geographically dispersed atolls and islands. It is located in the South Pacific Ocean. There are many islands within it that are not inhabited. It has begun to gain recognition for its culture in recent years. It is mainly toured for its beaches and resorts. Those interested in touring can book flights to French Polynesia.
Best Time to Book Flights to French Polynesia
The months from June to September are considered as the peak season for tourism in the country. The weather is dry but at the same time not too warm either. A great time to enjoy touring the country.
Places to Visit in French Polynesia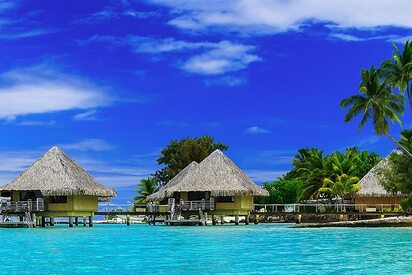 Bora Bora
A large part of the economy of the island is driven by tourism. It has several resorts. Overwater bungalows are a common sight on the islands. Most tourist attractions are sea-oriented but there are attractions on land too. There is no public transport on the island so rental cars and bicycles are commonly used here.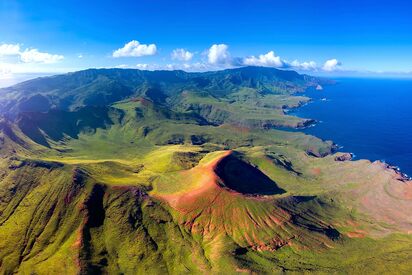 Marquesas Islands
They are a volcanic island group in French Polynesia. The island group has a stable climate all year round. Its people have a rich tradition in art. These include wooden sculptures to intricate personal ornaments. Its main church is the 'Cathedral Of Our Lady of Taiohae'.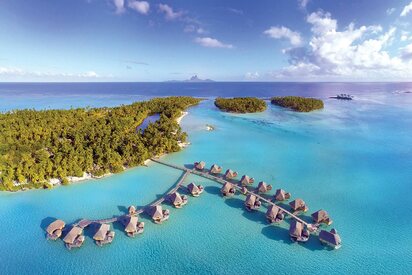 Tahiti
The island was formed due to volcanic activity. It is high and mountainous and is surrounded by coral reefs. The national capital Papeete is located within it too. It is considered the largest island in French Polynesia. It is also known very well for its culture too.
Popular Flight Routes to French Polynesia
| | | | |
| --- | --- | --- | --- |
| Origin | Destination | Duration | Best Price |
| Los Angeles (LAX) | Papeete (PPT) | 12h 30m | € 938 |
| Auckland | Papeete (PPT) | 04h 55m | € 806 |
| Bangkok (BKK) | Papeete (PPT) | 21h 05m | € 2,224 |
| Paris (CDG) | Papeete (PPT) | 21h 45m | € 1,881 |
| Sydney | Papeete (PPT) | 09h 45m | € 1,143 |
| Singapore (SIN) | Papeete (PPT) | 18h 00m | € 2,285 |
Popular Airports in French Polynesia
The country has 47 airports with scheduled flights. However, only one of them is considered international which is the Faʻaʻā International Airport in Tahiti. In 2019, the airport had an annual passenger traffic of 1,464, 998.
When Is the Best Time to Book Cheap Flight to French Polynesia?
It is a good idea to travel to French Polynesia during shoulder season to beat the rush, still enjoy decent weather and reduce expenses. Shoulder season here is considered to be the months of April and May before peak season starts and November after peak season finishes. Book flights to French Polynesia in advance.
Which is The Cheapest Day to Fly to French Polynesia?
Going by our research, Tuesday is considered the best day to book cheap flights to French Polynesia.
Which Time of The Day is The Cheapest to Book Flights to French Polynesia?
As per our research, flights that have take off time in the morning after sunrise but before noon tend to be the cheapest.
Top Tips to Get Cheap Flights to French Polynesia
Round Trip Tickets
Tourists that know their return date should buy round trip tickets as these are cheaper than purchasing two one way tickets.
Off Season
Off-season and shoulder season tend to see a dip in prices making them ideal for tourism.
Set Price Alert
Airfares tend to fluctuate constantly. Set a price alert to help book cheap flights and save cash.
Identify the Cheapest Day and Time
Usually, during weekdays flight prices drop and during weekends and holidays they rise. To save up on cash book flights when prices are lower.
FAQs
Is French Polynesia a country or part of France?

It is an overseas territory of France but has a high level of autonomy. It is a group of 121 geographically dispersed islands and atolls.

Is French Polynesia expensive?

Yes, it has been considered a bit expensive to tour.

Why is French Polynesia famous?

The group of islands is mainly famous for its resorts and beaches. It is starting to gain attention now for its culture too.

Is French Polynesia touristy?

It is a great place for tourism and many consider it underrated. It gets a decent amount of tourists too.

Is French Polynesia a safe place to visit?

Yes, it is generally a safe place to visit. However, it is always best to take necessary precautions.

Can you fly direct to French Polynesia?

Yes, there are some places that have direct flights to French Polynesia.

What is the national airline of French Polynesia?

Air Tahiti Nui is considered as the flag carrier to French Polynesia.

Does it snow in French Polynesia?

There is very little to no annual snowfall in the country.

How many airports are in French Polynesia?

There are 47 airports in French Polynesia that have scheduled flights.

What language is spoken in French Polynesia?

French is the main language spoken in the island group but there are other regional languages too spoken locally.
Popular Destinations In French Polynesia
Cheap Flights to Huahine
Cheap Flights to Moorea
Cheap Flights to Papeete
Cheap Flights to Raiatea Island
Flights To Other Countries
Cheap Flights to Fiji
Cheap Flights to Micronesia
Cheap Flights to Samoa
Nearest Airports In French Polynesia
Fa'a'ā International Airport – PPT