Book Cheap Flights- Save Huge
About France
It is considered among the world's most toured countries in the world. It offers the perfect landscapes, culture, fashion, history, etc. It has a lot of distinct and appealing geographical features which add to its beauty. Tourists interested in visiting can book flights to France.
Best Time to Book Flights to France
Taking the climate as the main factor, the best time to travel to France is during the months from June-August as these are considered as the best time of the year as far as the weather goes. It also coincides with the summer season.
Places to Visit in France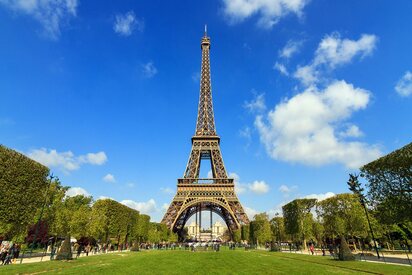 Paris
It is the national capital and so is understandably a city with great importance. It has been nicknamed as "The City Of Love" and is a popular destination among couples. It is home to several significant monuments and also museums. The Eiffel Tower and the Arc de Triomphe are its major attractions.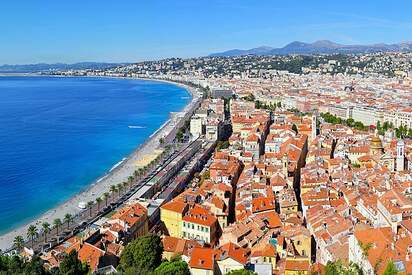 Nice
The city is known for its scenic beauty and its coastal line draws many tourists to it. It is known very well for its beaches. It is the capital of the Cote d'Azur region. The Promenade des Anglais is a beautiful boulevard that is near the Bay Angels and is a fine example of how the city combines coastal beauty and urban charm.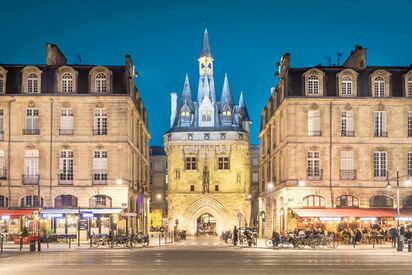 Bordeaux
It is an important port city in France and is also known for its gothic architecture. The Cathedral St. Andre and the Opera House are some of its prime attractions. Bordeaux is also known for its cuisines both French and also those from abroad.
Popular Flight Routes to France
| | | | |
| --- | --- | --- | --- |
| Origin | Destination | Duration | Best Price |
| Chennai | Paris (CDG) | 13h 25m | € 786 |
| Cardiff | Paris (ORY) | 1h 45m | € 412 |
| Vienna | Nice | 01h 45m | € 190 |
| Brussels (BRU) | Lyon | 01h 25m | € 144 |
| London (LHR) | Toulouse (TLS) | 0h 50m | € 151 |
| Lisbon | Marseille | 02h 25m | € 158 |
Popular Airports in France
| | | | |
| --- | --- | --- | --- |
| Airports | Code | City Served | Annual Passengers |
| Paris – Charles de Gaulle Airport | CDG | Paris | 72,229,723 |
| Paris – Orly Airport | ORY | Paris | 33,120,685 |
| Nice Côte d'Azur Airport | NCE | Nice | 13,850,561 |
| Lyon–Saint-Exupéry Airport | LYS | Lyon | 11,037,698 |
| Toulouse–Blagnac Airport | TLS | Toulouse | 9,630,308 |
| Marseille Provence Airport | MRS | Marseille | 9,390,371 |
Popular Airports in France
There are over 400 airports in France. The city of Paris itself has two international airports one of which is the Paris Charles de Gaulle Airport is the busiest one in the country. It had an annual passenger traffic of 72,229,723 in 2018.
When Is the Best Time to Book Cheap Flight to France?
Taking all factors into consideration, the shoulder season which are the months of April and May as well as September and October offer a balanced solution in terms of weather and cost.
Which is The Cheapest Day to Fly to France?
As per our research, Wednesday seems to be the best day to book cheap flights to France. Weekdays appear to offer better prices. It is also recommended to book flights at least 3 weeks in advance to get a lower airfare.
Which Time of The Day is The Cheapest to Book Flights to France?
As per our research, flights that take off around sunset time offer cheaper prices.
Top Tips to Get Cheap Flights to France
Round Trip Tickets
If one knows their return date they should consider booking a round trip flight instead of two one-way tickets as this is considered more affordable.
Off Season
Off season and Shoulder season can be good times to book flight tickets as prices tend to drop then.
Set Price Alert
Airfares constantly fluctuate so it is best to set a price alert and monitor it in order to get the best prices.
Identify the Cheapest Day and Time
Weekends and holidays are usually more expensive when it comes to booking flights than the weekdays. If travel dates are flexible, book when prices are cheaper.
FAQs
Why is France famous for tourism?

The country is beautiful and offers many diverse experiences. It has natural beauty and a mesmerising coastline around the French Riviera. It has many modern attractions too.

How popular is France for tourists?

In 2019 alone the nation had around 90 million tourists. France has held the title of being the global leader in tourism many times.

What is the most visited place in France?

In 2022, Disneyland Paris was found to be the most visited attraction in the country with around 15 million visitors.

Is it hot or cold in Paris?

The general climate during the year is mild and moderately wet too. Summers are usually warm and pleasant for the most part. Winters though can get a bit chilly.

How busy is Bordeaux airport?

The Bordeaux-Merignac has an annual passenger traffic of over 4 million and serves more than 80 destinations. It covers an area of 47,600 m².

What is France's currency?

The currency of France is the Euro.

What is the main airline in France?

Air France is considered the national airline in France and also its main carrier.

How many airports in Paris?

There are three airports in Paris. They are Paris: Charles de Gaulle, Orly and Beauvais.

Is France very expensive?

This will depend on the region which one resides in but generally speaking France is quite expensive and its capital Paris has consistently ranked among the most expensive cities in the world.

What is the number 1 attraction in France?

The Eiffel Tower in Paris is believed to be the country's main attraction and draws tourists from all over the world.
Popular Destinations In France
Cheap Flights to Lyon
Cheap Flights to Strasbourg
Cheap Flights to Marseille
Cheap Flights to Montpellier
Flights To Other Countries
Nearest Airports In France
Aéroport de Paris-Charles de Gaulle – CDG
Paris-Orly Airport – ORY
Nice Côte d'Azur Airport – NCE
Lyon-Saint-Exupéry Airport – LYS
Marseille Provence Airport – MRS