Book Cheap Flights- Save Huge
About Italy
Italy is a European country, known for its urban elegance and picturesque landscapes. It shares a long coastline with the Mediterranean and boasts some of the most beautiful cities and villages. It has become a de facto bucket list destination for all. Whether strolling on the cobblestoned streets of Rome or taking a gondola ride in Venice, there's beauty in almost every corner here. Every year, a large number of tourists from far and wide book flights to Italy and explore its beguiling vistas.
Best Time to Book Flights to Italy
Italy's climate is highly influenced by the Mediterranean and can be classified as temperate Mediterranean. Its summers are usually sunny, hot, and dry and winters are mild and sometimes rainy. The months between May, June, September, and October are the ideal months to visit Italy.
Places to Visit in Italy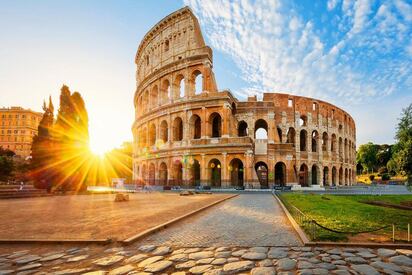 Rome
Rome, the capital of Italy, is home to ancient relics that represent the country's glorious history and heritage. From the colosseum, where the gladiators used to fight to the Pantheon, the Forum, and the Palatine Hill, Rome has several top tourist attractions to explore.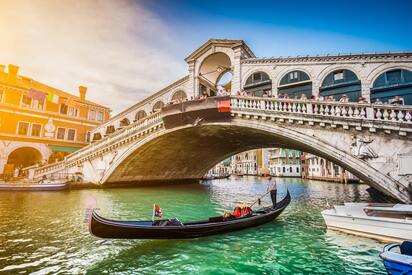 Venice
When in Venice, take a gondola ride. That's the rule! This magical city seems to come straight from Disney's fairy tale. This canal-clad city has a few diversions, including Doge's Palace, Teatro La Fenice, and Basilica of St. Mark.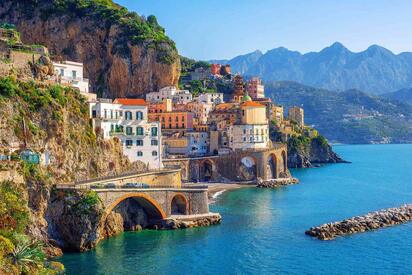 Amalfi Coast
It may sound cliche, but Amalfi Coast is enchanting. The Amalfi Coast boasts a breathtaking sight of steep cliffs, houses perched on the edge, and lush forests, where mountains seem to dive into the sea. It is undoubtedly one of the best places to admire the authentic Italian landscapes.
Popular Flight Routes to Italy
| | | | |
| --- | --- | --- | --- |
| Origin | Destination | Duration | Best Price |
| Amsterdam | Rome | 02h:10m | € 110 |
| Brussels | Milan | 01h:30m | € 101 |
| London | Venice | 02h:10m | € 77 |
| Athens | Naples | 01h:45m | € 48 |
| Paris | Florence | 01h:40m | € 106 |
Popular Airports in Italy
| | | | |
| --- | --- | --- | --- |
| Airports | Code | City Served | Annual Passengers |
| Leonardo da Vinci – Fiumicino Airport | FCO | Rome Metropolitan Area, Vatican City | 29,360,613 |
| Venice Marco Polo Airport | VCE | Venice, Padua | 2,799,688 |
| Naples – Capodichino International Airport | NAP | Naples | 4,636,501 |
| Florence Airport | FLR | Florence | 2,228,999 |
| Milan Malpensa Airport | MXP | Milan Metropolitan Area | 21,347,652 |
When Is the Best Time to Book Cheap Flight to Italy?
If you want to avail cheap flights to Italy, book at least two months prior to your journey. Booking in advance can get you affordable flights. However, the best months to get cheap flight deals are in January, February, and November.
Which is The Cheapest Day to Fly to Italy?
Italy or any other destination, the flight fares appear to be affordable mostly on Wednesdays. Check for flights departing on Wednesdays or mid week to get good deals.
Which Time of The Day is The Cheapest to Book Flights to Italy?
Book those flights, which depart either early in the morning or late night. People generally avoid these flights due to odd timing, and hence, you may crack a good deal on flight fares.
Top Tips to Get Cheap Flights to Italy
Round Trip Tickets
Round trip tickets are comparatively cheaper than one-way tickets. If you are sure about your return date, book it together to get cheap airfare.
Off Season
To get the best and affordable deals on flights and accommodation, visit Italy during off or shoulder season, when the crowds are already gone.
Set Price Alert
The airfare constantly fluctuates. To get an inexpensive flight ticket that will save some extra bucks, set a price alert.
Identify the Cheapest Day and Time
Generally, during weekdays airlines drop their price and increase during the weekends and holidays. If your travel date is flexible, book cheap flights to Italy when the price is cheaper.
FAQs
Which airlines offer direct flights to Italy?

Aegean Airlines, Aeromexico, Air France, AirBaltic, American Airlines, British Airways, Brussels Airlines, ITA Airways, etc. offer scheduled direct / nonstop flights to Italy from selected airports.

What is the largest airport in Italy?

Leonardo da Vinci – Fiumicino Airport (FCO) is the largest airport in Italy.

What is the main airline out of Italy?

Aegean Airlines, Air France, AirBaltic, American Airlines, British Airways, Brussels Airlines, ITA Airways, etc. are the main and popular airlines out of Italy.

When is the best time to book a flight to Italy?

Booking a flight at least two weeks prior to your departure helps you get good deals on flight tickets.

Can I fly to Italy now?

Italy is a beautiful country and can be visited any time of the year.

Why is Italy famous?

Italy is known for its ancient architecture, rich culture, art, literature, opera, film, and fashion. But that's not enough. The country takes pride in its topography. It boasts pristine beaches, long coastlines, small mountain villages, and luxe resort towns.

How much are return flights to Italy?

An average airfare for a return flight to Italy may cost you around € 482. However, it depends on the origin city.

What month is the cheapest to fly to Italy?

January, February, and November are the cheapest months to fly to Italy.

Is Italy costly?

Italy is the fourth cheapest country to live in in western Europe. The average basic living in Italy per month may cost around € 1,620.
Popular Destinations In Italy
Cheap Flights to Naples
Cheap Flights to Bari
Cheap Flights to Venice
Flights To Other Countries
Nearest Airports In Italy
Leonardo da Vinci – Fiumicino Airport – FCO
Venice Marco Polo Airport – VCE
Naples – Capodichino International Airport – NAP
Florence Airport – FLR
Milan Malpensa Airport – MXP