Book Cheap Flights- Save Huge
About Denmark
Denmark is a country with a rich history and cultural heritage. For foodies, its pastries are definitely quite the talking point. It is a very modern and well developed country that is great for tourism. It is an important member of the Nordic countries. Tourists that are aspiring to visit it can book flights to Denmark and explore the country.
Best Time to Book Flights to Denmark
Denmark has a temperate climate experiencing chilly and frosty winters along with cool summers. The climate of the country is best for tourism during the summer months. The window from April to November is considered best with July and August being the peak months.
Places to Visit in Denmark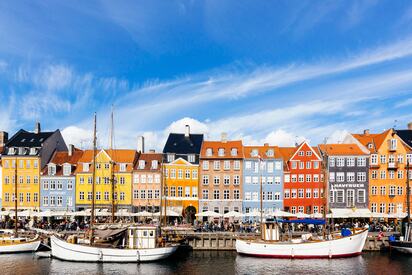 Copenhagen
It is the national capital and also one of the most beautiful cities in the country. There are natural attractions too. It also has a very happening nightlife scene too. Some of its main crowd pullers can be found near the city centre. Rosenborg Castle Gardens, Round Tower of Copenhagen, Christiansborg Palace, etc. are considered as must visits.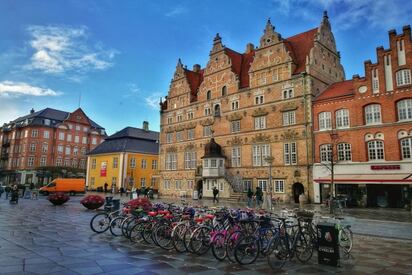 Aalborg
It is often underrated and is a promising destination for tourism. Its natural beauty and architecture are some of its main talking points. It is known for its streetscape which is considered to be fairytale-like. It is one of the largest cities in the land and also has many eateries and a fine street food market too.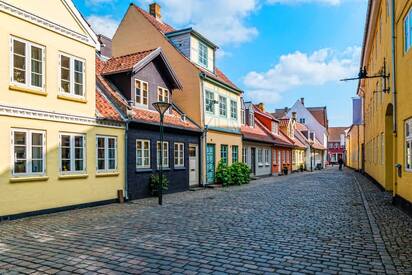 Oddense
It is also an important city in the country and is also known for its churches as well as mediaeval-looking streets that provide a nice retro vibe to it. It is most often visited during Christmas due to the HC Anderson Christian market.
Popular Flight Routes to Denmark
| | | | |
| --- | --- | --- | --- |
| Origin | Destination | Duration | Best Price |
| Amsterdam | Aalborg | 01h 15m | DKK kr. 1,861 |
| London (STN) | Aalborg | 01h 40m | DKK kr. 314 |
| Paris (CDG) | Billund | 01h 54m | DKK kr. 1,976 |
| Munich | Billund | 01h 30m | DKK kr. 2,199 |
| Delhi | Copenhagen (CPH) | 11h 00m | DKK kr. 5,566 |
| Dubai | Copenhagen (CPH) | 06h 55m | DKK kr. 3,583 |
Popular Airports in Denmark
The country has many airports but the Copenhagen Airport is the main international airport and also the busiest in the country. In 2019, it had an annual passenger traffic of 30,256,793. It is also spread out over an area of 11.8 sq.km.
| | | | |
| --- | --- | --- | --- |
| Airports | Code | City Served | Annual Passengers |
| Aalborg Airport | AAL | Aalborg | 1,342,384 |
| Billund Airport | BLL | Billund | 3,721,392 |
| Copenhagen Airport | CPH | Copenhagen | 22,143,007 |
When Is the Best Time to Book Cheap Flight to Denmark?
The best time to travel considering factors like price and weather are the months of May and September. These are part of the shoulder season and are great for enjoying the trip to the country.
Which is The Cheapest Day to Fly to Denmark?
Going by our research, Tuesday seems to be the best day to book cheap flights to Denmark at affordable prices. Weekdays are usually cheaper for booking flight tickets than weekends or holidays.
Which Time of The Day is The Cheapest to Book Flights to Denmark?
As per our research, flights departing early in the morning at around sunrise time offer lower prices for travellers.
Top Tips to Get Cheap Flights to Denmark
Round Trip Tickets
If travellers are aware of their return dates they should opt for roundtrip tickets as they are usually more affordable than buying two one way tickets.
Off Season
Flight ticket prices tend to reduce during off-season and shoulder making them ideal for booking cheap flights.
Set Price Alert
Airfares tend to fluctuate regularly. Set a price alert to help save a few bucks when booking cheap flights.
Identify the Cheapest Day and Time
Airfares drop during weekdays and rise on weekends and holidays. Hence, if flight dates are flexible, book when prices are lower.
FAQs
Is Denmark good for tourists?

The country may be small but it offers plenty for tourism. It is rich in culture, history, natural beauty, etc. This makes it a great place to visit.

Is Denmark expensive?

It is quite an expensive place to tour and also to live in so this definitely a factor that must be taken into consideration.

What is Denmark famous for?

Denmark offers a wide range of experiences for tourists to enjoy. These include olden architecture, natural beauty, great heritage, etc.

Can I use euros in Denmark?

There are some places in the country where euros are accepted. These are usually places which have lots of tourists. But barring those the rest of the country uses its local currency called the Danish Krone.

What is the major airline in Denmark?

The Scandinavian airlines is the largest airline that serves the Scandinavian group of countries and is the flag carrier for Norway, Sweden and Denmark.

What is Denmark's coldest month?

February is considered the coldest month in the country.

Does it snow in Denmark?

Yes, it does snow here in many places particularly in the north. Some places consistently receive snowfall throughout the year.

What is the hottest month in Denmark?

July is considered the hottest month in Denmark during the year.

Does Denmark have beaches?

The country has around 7,400 km of coast line so there are a few beaches there within the country.

Is English widely spoken in Denmark?

Yes, it is estimated that around 86% of Danes can communicate in English.
Popular Destinations In Denmark
Cheap Flights to Aalborg
Cheap Flights to Aarhus
Cheap Flights to Billund
Flights To Other Countries
Nearest Airports In Denmark
Aalborg Airport – AAL
Billund Airport – BLL
Copenhagen Airport – CPH