Book Cheap Flights- Save Huge
About Portugal
Portugal is considered one of the best places to visit in Europe. It has a beautiful countryside, lively cities, rich culture, etc. It has a very diverse landscape with rocky cliffs, deserts, greenery, etc. There are also some exquisite beaches too. It is also a great place for certain activities like surfing and golf. Those interested in travelling to the country can book flights to Portugal.
Best Time to Book Flights to Portugal
The months from June to August which are part of the summer season are great for touring the country. This period falls within the summer season and experiences high levels of tourism.
Places to Visit in Portugal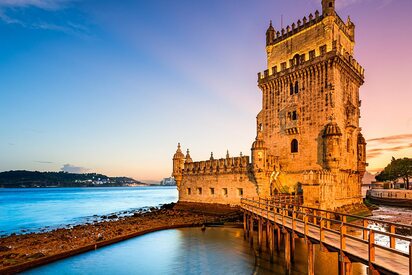 Lisbon
The capital city has grown greatly in popularity among tourists over the years. It has amazing weather, lots of historical sites and is beautifully set on the Tagus River. Some popular attractions here include St. George's Castle, Belem Tower, Jeronimos Monastery, etc.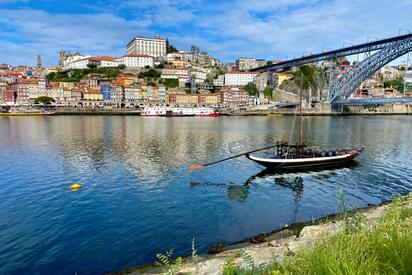 Porto
It is an exquisite city with appealing architecture and is a great place to visit in Portugal. There are several hills with mediaeval palaces, churches, cathedrals, etc.A simple stroll around in the city is a great way to relax. The old centre of Ribeira is one of its most lively parts.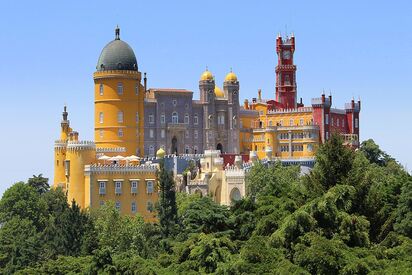 Sintra
The city is almost fairytale-like with its overall architecture and design of the city. The Pena Palace is arguably its biggest attraction. Just a walk around the city is enough to leave tourists mesmerised. The city has a lot of beauty and appeal for tourists.
Popular Flight Routes to Portugal
| | | | |
| --- | --- | --- | --- |
| Origin | Destination | Duration | Best Price |
| Boston | Azores | 8h 50m | € 1,523 |
| Manchester | Madeira | 06h 05m | € 201 |
| Copenhagen | Faro | 03h 55m | € 136 |
| Toronto (YYZ) | Porto | 09h 20m | € 724 |
| Hangzhou | Lisbon | 14h 00m | € 919 |
| São Paulo (GRU) | Lisbon | 09h 30m | € 1,087 |
Popular Airports in Portugal
| | | | |
| --- | --- | --- | --- |
| Airports | Code | City Served | Annual Passengers |
| Ponta Delgada – João Paulo II Airport | PDL | Azores | 1,849,000 |
| Cristiano Ronaldo International Airport | FNC | Madeira | 3,377,000 |
| Faro – Gago Coutinho International Airport | FAO | Faro | 8,727,000 |
| Francisco Sá Carneiro Airport | OPO | Porto | 10,787,000 |
| Humberto Delgado Airport | LIS | Lisbon | 28,262,000 |
When Is the Best Time to Book Cheap Flight to Portugal?
The best time for booking cheap flights while still having decent weather to enjoy would be the shoulder season which are months of May and September. The rush also tends to be a bit lower.
Which is The Cheapest Day to Fly to Portugal?
Going by our research, Wednesday appears to be the cheapest day to book cheap flights to Portugal. It has been found that weekdays offer lower prices for flights compared to holidays and weekends.
Which Time of The Day is The Cheapest to Book Flights to Portugal?
As per our research, flights that depart early in the morning at around sunrise time are usually cheaper.
Top Tips to Get Cheap Flights to Portugal
Round Trip Tickets
If travellers know when they are to return from their trip it is best for them to book round trip tickets as they tend to be more affordable than purchasing two one way tickets.
Off Season
Airfares tend to drop during the off-season and shoulder season. Hence, these are good times to book cheap flights.
Set Price Alert
Airfares tend to fluctuate regularly. Setting price alerts can be a great way to book more affordable flights and reduce expenses.
Identify the Cheapest Day and Time
Generally, flight tickets tend to be more expensive during the weekends and holidays compared to the weekdays. If tourists have flexibility in their travel dates they should book flights when prices are cheaper.
FAQs
What attracts people to Portugal?

The country has lots of natural beauty, rich culture, architecture, etc. It also has a beautiful coastline and some amazing beaches.

Is Portugal cheap or expensive?

The country is considered one of the most affordable places in Europe. It is great for those on a budget to tour and also to live in.

Do they speak English in Portugal?

A lot of people in the big cities of Portugal can speak English. Many foreigners that don't know Portuguese can manage well with English alone.

Which city is most visited in Portugal?

Lisbon, the national capital is the most toured city in Portugal.

What is the major airport in Portugal?

The Humberto Delgado Airport in Lisbon is the main airport in Lisbon.

What is the main airline in Portugal?

TAP Portugal is the country's main airline and is also the national airline too.

What is the number one attraction in Portugal?

Saint George's Castle is considered as the biggest crowd puller when it comes to tourism.

What is Portugal's coldest month?

January is believed to be the coldest month in the country.

What is the hottest month in Portugal?

July is considered the hottest month and is also part of its peak season.

Is Portugal a good place to live in?

Yes, definitely it is a safe place to live in and is considered affordable too making it a good country to reside in.
Popular Destinations In Portugal
Cheap Flights to Santa Maria
Cheap Flights to Porto
Cheap Flights to Faro
Cheap Flights to Funchal
Cheap Flights to Horta
Cheap Flights to Terceira
Flights To Other Countries
Nearest Airports In Portugal
Ponta Delgada – João Paulo II Airport – PDL
Cristiano Ronaldo International Airport – FNC
Faro – Gago Coutinho International Airport – FAO
Francisco Sá Carneiro Airport – OPO
Humberto Delgado Airport – LIS