Book Cheap Flights- Save Huge
About Copa Airlines
Booked a flight with Copa Airlines and not sure how much luggage you can carry? Here, we will guide you to Copa Airlines baggage policy and additional baggage charges for domestic and interaction trips to make an informed decision. Being one of the major airlines in Panama, Copa Airlines tries to be very flexible with its baggage policy so that its passengers do not have to leave their essential items behind.
Copa Airlines, the flag carrier of Panama, is headquartered in Panama City. With a fleet size of 82 aircraft, Copa Airlines today covers 84 destinations in various parts of the world.
Here we well discuss about the size, shape, infant/pet polict, and copa baggage fees.
Baggage Allowance Policy
Before you pack your bag, it is better to understand how much the airline allows you to bring. Otherwise, you will end up paying a hefty Copa baggage fees. To make travel comfortable, Copa Airlines' baggage rule allows various types of luggage, which depends on the route and cabin class. To know more about Copa Airlines baggage, read below:
The Copa Airlines baggage policy allowance depends on the date of travel, origin, destination, fare type, and PreferMember status.
Additional baggage fees are subject to taxes established by the origin country.
All baggage exceeding the maximum size and weight limitation will be subject to space availability in the aircraft. The airline will charge additional Copa baggage fees for extra luggage.
Excess carry-on Copa Airlines baggage policy are subject to being checked and charged copa baggage fees as additional baggage.
Packages not meeting the standard shape and size are not allowed on flights to Cuba, Ecuador, and El Salvador.
Carry on Allowance
Copa carry-on baggage policy allows passengers to bring one personal item and one standard carry-on Copa Airlines baggage for free in the cabin. If the passenger is traveling with an infant, then they can carry one additional item for free, such as a diaper bag, car seat, or a collapsible stroller. However, no item should exceed the maximum size restrictions under the policy of Copa Airlines baggage.
Size and Weight Restrictions for Carry On Baggage
| | | |
| --- | --- | --- |
| Item | Dimension | Weight |
| Personal Item | 17×10×9 inches | No weight limit disclosed |
| Carry On | 22×14×10 inches | 10kg |
Prepay Checked Baggage
You can prepay for your luggage during the web check-in at the airport. However, the Copa Airlines baggage policy must be done at least 3 hours prior to the scheduled departure. The policy doesn't apply to oversized or overweight Copa Airlines baggage.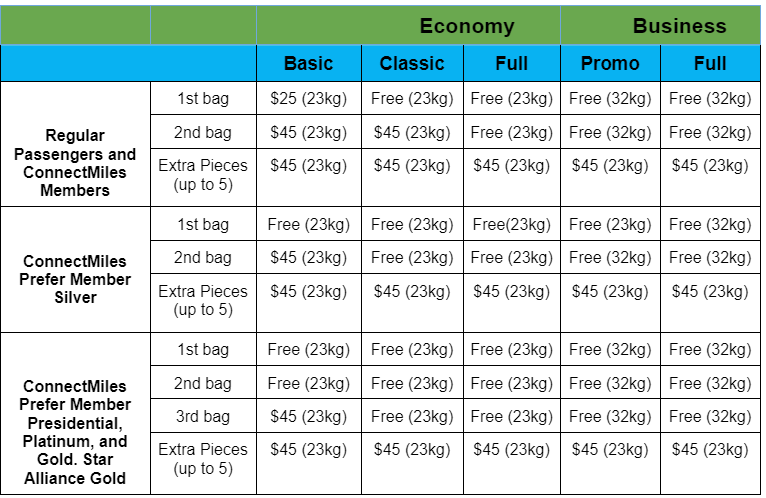 Checked Baggage Sizes
Each piece should measure up to 62 combined linear inches (height+length+width)
It will be considered an excess baggage, if the baggage exceeds the combined linear measurement between 63 inches and 115 inches.
If the combined linear measurement exceeds 115 inches, then under the Copa Airlines baggage allowance policy, the baggage will be transported as cargo.
If you do not want pay Copa Airlines baggage fees, don't exceed the maximum baggage limit.
Checked Baggage Allowance for Copa Domestic Flights
Economy: 1×23kg per bag
Business Class: 2×23kg per bag
Checked Baggage Allowance for Copa International Flights
Economy/Promo Classic: 1×23kg per bag
Economy Full (Y, B, M): 2×23kg per bag
Business Class: 2×32kg per bag
Additional Baggage Fees
Domestic Flight
---
All classes:
USD 45
International Flight
---
Economy/Promo Classic:
Second bag: USD 40
Extra bag: USD 175
Economy Full (Y, B, M):
Extra bag: USD 175
Business class: USD 175
Excess Baggage Fees
---
Domestic Flights:
International Flights:
USD 100 for 24-32kg
USD 200 for 33-45kg
Note: Individual items over 32kgs are not allowed in flights traveling to/from Bahamas and Cuba. Domestic flights don't allow oversized bags.
Overweight and Oversized Baggage Allowance
The passenger must incur for the overweight and oversized luggage and pay Copa Airlines baggage fees. However, not all Copa Airlines flights allow Copa Airlines baggage allowance exceeding the restricted measurement. Read the below chart to know the overweight and oversized fees.

Apart from that, anything that exceeds 45kg must be transported as cargo. But flights traveling to/from the USA and Puerto Rico do not allow the shipment of baggage of personal items as cargo.
Baggage Allowance for Infants and Children
Copa Airlines baggage allowance allows certain items as hand luggage for free for the passengers with an infant (0-23 months). The items will be allowed only if the size and weight doesn't exceed the restricted measurement. The passengers with infant are allowed to bring one of the following three items on board, with no additional Copa Airlines baggage fees:
If you have purchase a baby seat, bring one airline approved baby seat, which must be accredited for use in automobiles and aircraft
A small folding stroller. If the stroller is large, it should be checked-in at counters to be transported as baggage in the hold in the aircraft
The Copa Airlines baggage allowance policy for children above 2 years will be the same as adults.
Copa Airline Pet Policy
If you are traveling with your fur baby, it is better to check with the airline's pet policy. Copa Airlines allows small dogs and cats in the cabin along with its human. To know more about the pet policy and Copa Airlines baggage fees for pets, read the points below:
Pets are allowed to travel on international flights from Monday to Friday. Pets are allowed any day of the week if they are traveling domestically within Panama, and as long as they have no international connecting flight.
Only one pet per passenger and one pet per container are allowed.
Only 3 pets are allowed in the cabin.
Children below 11 are not allowed to travel with pets.
Damaged or Delayed Baggage Policy
Copa Airlines' lost and delayed baggage policy states that in case of lost, damaged, or delayed baggage you are entitled to get assistance from the airline.
If you are at the airport, you can go to the Copa Airlines counter and notify them about the issue.
If you have left the airport, you must inform the airline online within 4 hours of landing for domestic flights, and within 7 hour of landing for international flights.
If the delay exceeds 24-hours, passengers can lodge a complaint with the airline.
For damaged luggage, report to the 'Baggage Service Office' at the airport. If the airline is responsible for the damaged luggage, you will be compensated.
Restricted Items
Copa Airlines takes strict measures to ensure the safety of its passengers. For security concerns, the airline has restricted some specific items from its flight. Hence, before boarding a Copa flight, learn about the items you are not allowed to carry.
Batteries
Blood, blood components, tissues, organs, samples, etc.
E-cigarettes
Fragile objects
Camping stoves and fuel containers
Chemicals
Cartridges or toners for printers that weigh more than 450g.
Dry ice
Recreational mobility devices powered by Lithium batteries
FAQs
How early can I check my luggage, if I am traveling with Copa Airlines?

Copa Airlines allows passengers to check in at least 4 hours prior to the domestic departure and 6 hours for international departure.

What is Copa Airlines' extra baggage fee?

Copa Airlines charges USD 40 for an additional bag and it may go up to USD 175 depending on the origin, destination, date, and fare type.

What should I do if I lose my bag or if my baggage is delayed or damaged?

If you are at the airport, you can go to the Copa Airlines counter and report about the issue. If the luggage is damaged and the airline is responsible, then Copa will reimburse you.

What is Copa Airlines baggage policy for economy class?

Economy Promo/Classic passengers are allowed to carry 1×23 kg bags, and Economy Full (Y, B, M) are allowed to carry 2×23 kg. All passengers are allowed to carry one 1 carry-on bag and one handbag free of charge, and the size must not exceed 36×26×56 cm.

Can you check more than two bags on Copa?

Copa Airlines allows two bags in its business class for all destinations and in economy class covering international destinations.

Can you pay in cash for the Copa Airlines baggage fee?

Copa Airlines accepts credit, debit, cash, and online payment methods. You need to visit the airport to check the fees of your luggage, and after that you can make the payment.
Copa Airlines Popular Destinations
Copa Airlines Popular Routes
Related Topics
Unaccompanied Minor Policy
Copa Airlines Phone Number
Check-In Policy